Bonus Buy Slots
So many online slots offer you the option to buy in-game features. But how can you know which Bonus Buy slots are worth your time (and your money)? We'll show you how.
The Best Bonus Buy Slots Based on Real Data!
Slots are jam-packed with exciting features that players love. Because players tend to seek out slots that are rich in features, suppliers have begun releasing feature buy slots which allow players to pay for feature activation. The features that are unlocked and the price that is charged varies greatly according to the slot. Generally, though, the payout potential of the game increases once you've activated the feature – this feature could be entry into free spins, or other extra features such as multipliers, expanding wilds, or other modifiers.
Here are a few of the most well-known slots where you can buy bonus: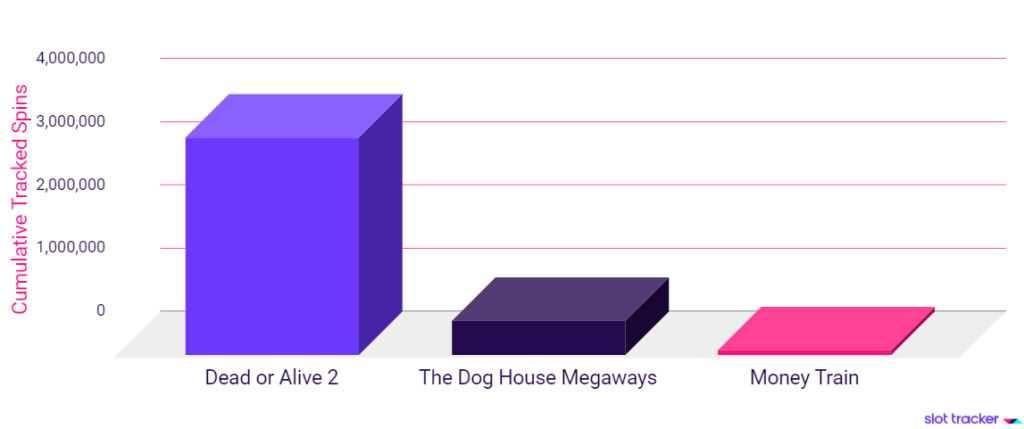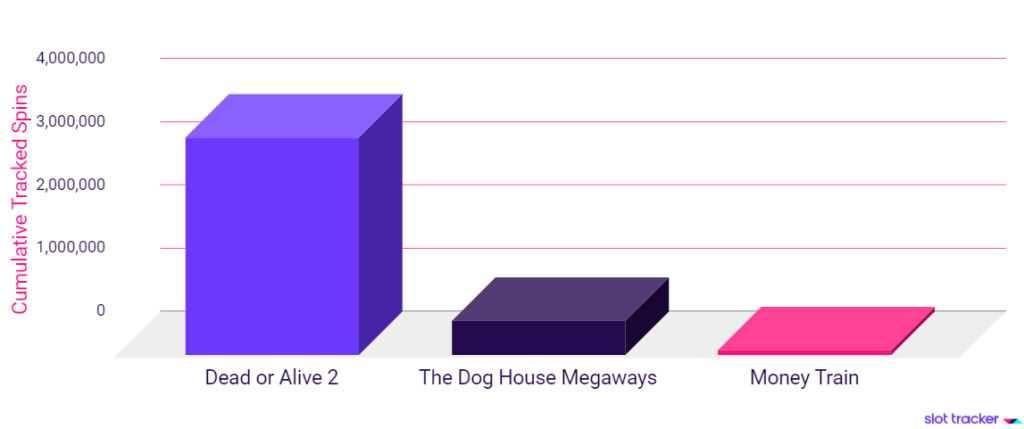 What Is a Bonus Buy Feature and Why Do You Need to Know About It?
All feature buy slots are different. The bonus buy feature varies for each slot. Make sure to check the game's bonus details on slot tracker to find out how the game is performing. Look up the following stats:
Total Bonuses: The total number of bonuses tracked on this slot.
Average Bonus Win: The average win (expressed as a multiplier) that players have won through bonuses.
Bonus Frequency: The frequency at which players get into the bonus rounds.
Some examples of Feature Buy Slots:
The Dog House Megaways – The Dog House Megaways offers two free spins bonuses: Raining Wilds free spins and Sticky Wilds bonus. Raining Wilds gives the player more free spins; Sticky Wilds (true to its name) offers wilds that appear on the reels and remain there throughout the round. Game rules state that free spins can be instantly triggered for 100x the current total bet.
Dead or Alive 2 – Dead or Alive 2 is renowned for its 3 free spins games: Train Heist, Old Saloon, and High Noon. These bonus games are packed with payout potential and can send the slot's volatility through the roof. The game's rules state that you can activate free spins with the buy free spins feature – one main game spin is guaranteed to activate free spins with 3 or more scatter symbols.
Remember to check the bonus details on our spin-tracking tool!
Money Train – The Money Cart bonus round is triggered by landing BONUS symbols – the three symbols that trigger the feature reveal a value which is displayed as a multiplication of bet, and further awards 3 spins. Within free spins, there's a range of other symbols that can help the player win up to 20,000x. According to the game's rules, the buy feature allows the triggering of the Money Cart bonus round for the price displayed.
Remember to check the bonus details on our spin-tracking tool!
How Important is Bonus Buy Feature for a Player?
The Bonus Buy Feature is a way for players to get into the most profitable parts of games – the bonus rounds. Players who seek to buy bonus rounds in slots are usually those who are after big payouts as opposed to casual entertainment. That being said, you don't necessarily need to buy into the bonus rounds to have a chance of landing a big payout.
We encourage you to use our tool to have a look at the bonus details for each bonus buy slot listed here – and also others that you consider playing. By knowing how other players within our community have fared in the bonus rounds of these games, you'll get a sense of whether it makes sense to spend money to enter into the bonus rounds, and also what your chances are of triggering bonus rounds without the bonus buy option.
Ultimately, it comes down to what you're after as a player.
How Much Does It Cost to Buy a Slot Bonus Round?
This is totally dependent on the bonus buy feature in question and varies greatly – for instance, Dog House Megaways asks for 100x your bet. Sometimes, the price for unlocking the Bonus Buy Feature is dependent on the operator and region. You will need to judge whether it's worth the price to purchase entry into the bonus rounds. Look through our spin-tracking tool to learn more about what other people's experiences on the game have been, particularly in the bonus rounds. Look at the highest win on the game, the overall RTP, and the hit rate.
If you are concerned about the cost of bonuses, check out our bonus offers.
| | | |
| --- | --- | --- |
| Game | Provider | Cost to buy bonus round |
| The Dog House Megaways | Pragmatic Play | 100 x bet |
| Dead or Alive 2 | NetEnt | Cost in coins x coin value |
| Money Train | Relax Gaming | 80x |
| San Quentin | Nolimit City | 100x, 400x, 2,000x for 3/4/5 scatters |
| Fruit Party 2 | Pragmatic Play | 100 x bet |
How is the RTP Influenced by Buying a Bonus Round?
When you buy a bonus round in slots, you are essentially elevating the RTP of the game. RTP stands for Return to Player and refers to the percentage of the total amount bet that is returned to the player over the long term. This stat covers both the main game and the bonus levels. If we were to look exclusively at the bonus rounds, we would notice that the RTP was higher. This is why players often hope to enter into the bonus rounds of games – it's more profitable.
Slot Tracker Tracks Bonus Buy Slots from Over 18 Providers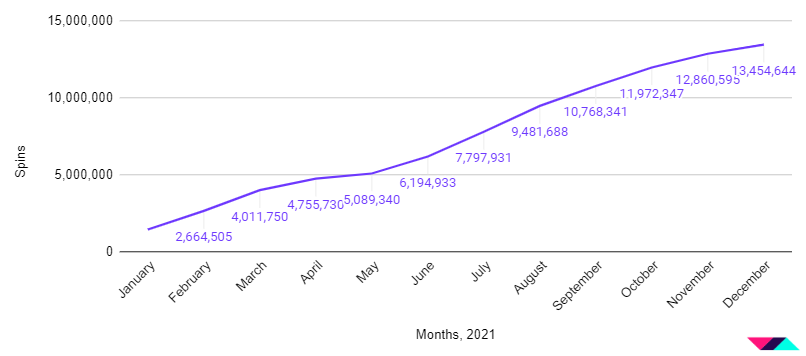 Slot Tracker is an indispensable tool that you can use when assessing bonus buy options. Before you purchase entry into the bonus rounds, check the following key stats on the tool:
This will give you a great indication of what your experience in the bonus rounds might be like, and whether it makes sense to buy a bonus round in slots.
How to Track Bonus Buy Features Using Slot Tracker
Every time players spin on our tool, we gather all data relevant to that spin and collect it within our tool. You can find all the information you need by viewing the Buy Bonus Feature section on the console. Statistics available include:
Total Bought: the number of entries into bonus rounds purchased. Every time the player purchases entry into bonus rounds, a single bonus game is registered irrespective of the number of bonus rounds (aka free spins) that are awarded
Average Bonus Multiplier: the average win – multiplier – in the bonus buy games
Best Win: the highest win acquired in purchased bonuses
Are Bonus Buy Slots Safe to Play?
All slots made by reputable providers have gone through a vetting process by 3rd party regulators to ensure fairness. However, we strongly advise you to adhere to responsible gambling principles in order to protect yourself from problematic gambling behaviour. Player safety is a high priority for the team at Slot Tracker. Please refer to our Responsible Gambling page for more information.
Are Bonus Buy Slots Fair?
Slots have their RNG (random number generator) vetted by independent, accredited test facilities (ATF) to ensure randomness and fairness. While it's true that the house will always have an edge, and casinos are essentially businesses looking to make profits, the games are ultimately fair. In order to operate, casinos and casino products need to be compliant in highly regulated industries. When you play a slot by a well known supplier, you can rest assured that it has been thoroughly tested to ensure randomness.
Buying a Bonus Round – Pros and Cons
There are pros and cons to buying into the bonus rounds. We've summarised these in a table below:
| | | |
| --- | --- | --- |
| | Bonus Buy | No Bonus Buy |
| Pros | Increased RTP / Chance of Landing Big Wins | Keeps Cost of Spins Down |
| Cons | Significant Cost | Significantly Less Chance of Landing Big Wins |
Tips on How to Use the Bonus Buy Round
Here's our guide for how you should go about purchasing bonus buys:
Check the cost of the bonus
By clicking on the bonus buys button, you will be told exactly how much you're paying for free spins. If it is not clear, check the rules of the game. But don't buy them just yet.
Check the bonus frequency
If a slot has a high bonus frequency, then you might consider not purchasing bonus buys as you might be able to enter the bonus rounds through normal spins.
Analyse how rewarding the bonus round is
Weigh up the average bonus win against the price of bonus buys. Also check your chances of hitting a big win in the main game: look at the game's hit rate and best win. Consider your finances and budget accordingly before you decide to purchase bonus buys. If you still want to purchase bonus buys, click Buy Free Spins (or whatever is displayed on your current slot's bonus buys button) and then click OK.
Know when to quit using the feature
Always remember: never chase your losses. If you don't get the result you were hoping for, stop playing. Online slots should be about entertainment.
Where to Play the Best Bonus Buy slots
There are plenty of casinos where you will be able to play slots which have bonus buy options:
Top 5 Slots on Mobile
Here is a list of slots where you can buy bonus on mobile:
Sweet Bonanza
Money Train 2
Ramses Revenge
Buffalo Toro
Max Megaways
Top 3 Game Providers
Here's a few providers that release great slots that you might enjoy:
Relax Gaming
Pragmatic Play
No Limit City
You Can Now Track Bonus Buy Slots!
Our tool tracks slots what are equipped with the Bonus Buy feature so that you can make more informed decisions. The Bonus Buy Feature is a great addition to modern slots, and this is why such slots are in such high demand.

Slot games are built to have exciting, hidden layers. Players these days are less willing to wait patiently to unlock bonus stages. But although they are highly entertaining, they can also be quite expensive. This is why you should be judicious when using this feature. Use the data our tool affords you to back up your decision on whether buying into bonus rounds is worth it. Start tracking bonus buy slots today!
FAQs
What are bonus buys slots?
Bonus buys slots are simply regular online slots which offer a bonus buy feature – this is simply a function that allows players to buy their way into the bonus rounds of the game. 
If I buy a bonus round in slots, will it help me to win big?
Modern slot games are designed to have a substantial portion of their RTP (Return To Player) within the bonus rounds. This means that, theoretically, you do have a greater chance of hitting big wins within the bonus rounds. The question of whether or not you should opt to buy into bonus buys, however, is based on several factors. Ultimately, you need to make a decision based on your own budget, goals, and the slot game in question. You can use Slot Tracker to help you make your decision.
Can I enter into bonus rounds without buying into bonus?
Yes, you can. It is of course much harder to trigger bonus rounds without resorting to the bonus buy option, but it is nonetheless possible – and, of course, cheaper!
Which feature buy slots are best? 
There is no definitive answer to this. Each game needs to be judged on a case-by-case basis. Furthermore, it all depends on what you're after as a player. If you're motivated by the prospect of a large payout, look through our tool to find the slots that have recorded the highest wins. If you simply want to enjoy playing slots and entering into the bonus rounds, find a slot that you like and check whether bonus buys are available.