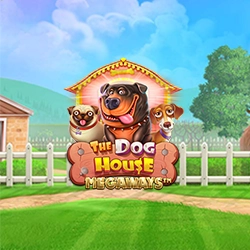 Stats Updated On : December 2, 2023
The Dog House Megaways
This slot is Pragmatic Play's follow up to its original fan favourite, The Dog House. With Slot Tracker, we now have more information about this slot's statistics than ever before. Stick around for our review of The Dog House to see what we've found out and how the developer's info compares to real community data.
Medium
Community Volatility
Join the Slot Tracker community to...
Track your slot data in real-time
Access slot insights from over 100 million spins
Compare your stats to our community's
Join 817 community members
tracking this slot
The Dog House Megaways Community Data
This data is your snapshot of how this slot is tracking for the community.
€151,738.67
Best Monetary Win
1,238.65x
Best Multiplier Win
The Dog House Megaways Community Bonus Data
2,324
Total Bonuses Tracked
The Dog House Megaways High RTP Casinos
Here are the top high RTP casinos for this slot.
The Dog House Megaways on Slot Tracker
This game currently has 670,433 spins on Slot Tracker, which shows it's a highly popular game. This slot is another example of a Megaways remake which has been a common trend in the slot industry for a while now. Below, we've covered all the features of this slot with an in-depth analysis.
Slot Tracker Provides all The Dog House Megaways Statistics
By heading over to Slot Tracker, you can find more data on The Dog House Megaways, which is driven by real time spins by the community. This provides more info on areas like RTP, volatility, bonus frequency, hit rate and more.
The Dog House Megaways RTP
The RTP value provided by Pragmatic Play is 96.55%, which is considered a solid value. However, looking at the community stats on Slot Tracker, this slot's RTP is currently 74.11%, in relation to 670,433 tracked spins.
Hit Rate
Hit rate is an estimate of how often you might win, though it doesn't say anything about the size of the payout. According to Slot Tracker data, this slot's hit rate is currently 1/4.2 (23.85%). Pragmatic Play, the developer, hasn't released its official hit rate stat.
Bonus Frequency
This slot's bonus frequency, according to Slot Tracker, is 1/195.3 (0.51%). This info is another stat the developer doesn't list. As with all our provided Slot Tracker stats, this is in relation to the current number of tracked spins.
Min and Max Bet
There's a good betting range of €0.20 to €100, which allows players of all levels to enjoy this game.
The Dog House Megaways Volatility
This slot's volatility is classified as high by Pragmatic Play. According to Slot Tracker data though, it's shown the game has Medium volatility at this time. Certainly, this value can change as more spins are tracked.
The Dog House Megaways Best Win
This slot's best win so far has been €151,738.70 among Slot Tracker users. However, this doesn't mean it's the largest win ever. The maximum win allowed by the game is 12,305x your wager.
Average bonus
The average bonus win in this slot is 3.6x on Slot Tracker right now. If we compare this to a few other popular Megaways slots, we can see this number is lower than other games.
The Dog House Megaways Slot Tracker Stats vs. Pragmatic Play Stats
Do the official The Dog House Megaways win stats compare well with the Slot Tracker community data? In the table below, you can see a quick summary of some of the most important statistics.
| | | |
| --- | --- | --- |
| Stat | Slot Tracker Community | Pragmatic Play Data(based on their official numbers) |
| RTP | 74.11% | 96.55% |
| Volatility | Medium | High |
| Payout** | €151,738.70 | 12,305x |
*The more spins tracked, the more accurate our community data.
**The community best win may exceed the provider max payout due to currency conversion on our slot tracking tool.
The Dog House Megaways Symbols and Features
Now we move on to one of the more interesting sections of our review. Here, you can learn more about all the exciting features and bonus mechanics found in the slot.
The symbols
The high paying symbols all revolve around dogs in some way. A Rottweiler is the highest paying symbol, with other premium symbols being a pug, a dachshund, a Shih Tzu, a bone and a dog collar. A, K, Q, J, and 10 are the lower paying, generic symbols found in many slots.
Wilds
Wild symbols are represented by a doghouse and these substitute for other paying symbols to help you win.
Re-spins
You'll need three bonus symbols (represented by a paw) to activate the free spins rounds. Players will have a choice of seven sticky wild spins or 15 raining wild spins.
Multiplier
The wild symbols can also come with multipliers of 2x or 3x, so they do more than just substitute for other symbols. It can also double or triple any wins you receive and it becomes especially important during the free spins.
Autoplay option
Players will find a basic autoplay option, although there are no responsible gambling tools such as a loss limit.
The Dog House Megaways Bonus Options
In addition to the features above, there are also some other options to consider when playing this slot, such as the ability to buy into the bonus round.
Jackpot
Although there's no true jackpot, you can still get a sizable max win of 12,305x your wager.
Bonus Buy
In this slot, you also have the option to buy the bonus round for 100x your current wager. After that, you have to pick between the two different modes we mentioned above, which include seven sticky wild spins or 15 raining wild spins.
Ultimately the cost of 100x is on par with most other slots, but picking the right bonus round may be the key to maximising your wins.
Did you know Slot Tracker tracks Bonus Buy Stats?
To ensure accuracy of the bonus statistics, the normal bonus data is tracked separately from the bonus buy rounds. You can still view the bonus buy information through Slot Tracker as well.
Track The Dog House Megaways on the Community's Top Casinos
You may be wondering now which casino is the best to track this game. The most popular casinos on Slot Tracker right now are Video Slots, Casumo, PlayZee and LeoVegas.
The Dog House Megaways Graphics & Sound
The graphics and sound of this slot are some of the best around. The game has a cartoonish and lighthearted feel and takes place in a yard with a house in the background. Pragmatic Play picked a great soundtrack to go with the game and add to the enjoyment.
| | |
| --- | --- |
| Graphics | 2D |
| Optimised for Mobile | 👍 |
| Music | Upbeat, catchy music |
| Special features | Animations |
Solutions to Common Gameplay Issues
In the case of slow gameplay, we recommend checking your internet connection and refreshing the browser.
If there are any malfunctions during a spin, the bet will be considered void and refunded to you.
Slot Tracker also has a button where you can report any issues with the website or tracking function.
Another Hit From Pragmatic Play
The graphics, sounds and gameplay are all excellent. The RTP value is also above the slot average and players can buy a bonus round if they choose.
Ultimately this is one of those slots that does almost everything right, with few, if any, negatives. You can see for yourself if you use Slot Tracker to gain an insight into this game, regardless of your player level.
Similar Slots to Track if You Enjoyed The Dog House Megaways
FAQs
How much can players wager on The Dog House Megaways?
You can wager between €0.20 to €100.
Is there a bonus buy option in The Dog House Megaways?
Yes, you can buy the bonus rounds for 100x your bet. 
What's the max win in The Dog House Megaways?
You can win up to 12,305x your wager.
Is there a demo of The Dog House Megaways?
Yes, you can find a demo at the Pragmatic Play site and most online casinos too. 
How does the RTP of The Dog House Megaways compare to other slots?
The official RTP of this slot is 96.55%, which is quite typical for a modern online slot game.
Is the Dog House Megaways an improvement compared to the first game?
This is somewhat subjective, but we feel that with the addition of Megaways mechanics, the game is more exciting, with almost double the official max win potential as the original.