Best Payout

Slots

If you're on a quest to find the best payout slots online, you've come to the right place. This article will utilise our Slot Tracker tool to show you how to easily find the highest payout slots online.
The Best Payout Slots Online
Before we take a deep dive into slots statistics, here's a list of some of the all-round highest payout slots online based on data from our tool.
*Correct at the time of writing.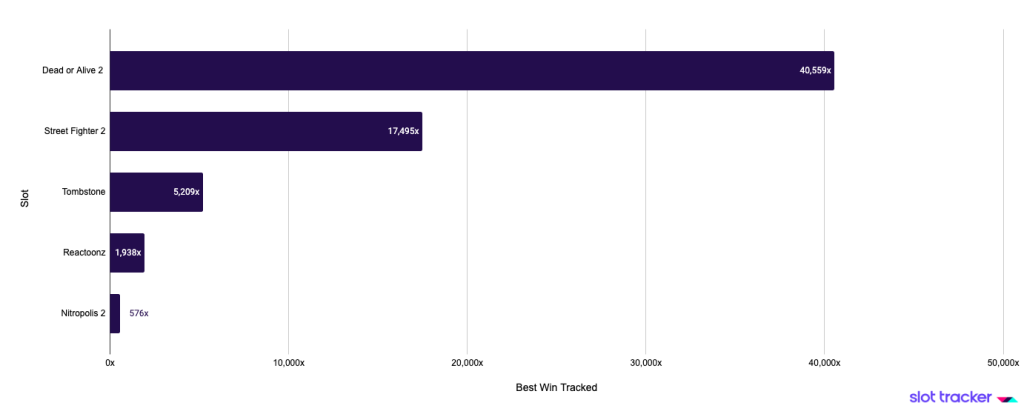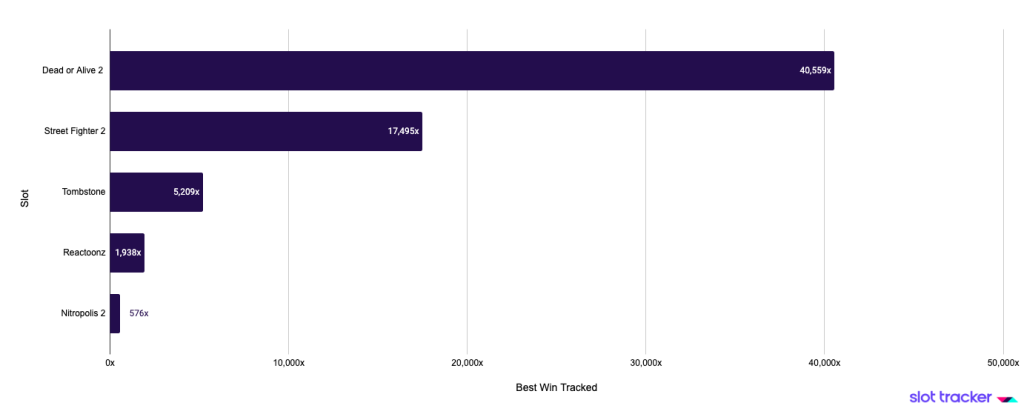 What Makes Slots the Best Payout Online Slots?
The highest payout slots online are the ones which give players the chance to get a good return for their wager based on our stats. Important stats to consider are RTP, hit frequency, volatility, and max payout. As our community of players spin on their favourite games using our app, we gather data to establish which are the highest payout slots online – read on to find out more.
A High RTP
RTP stands for Return To Player and refers to the percentage of the total amount wagered on a slot that players theoretically win back over the long term. Slot Tracker tracks the high RTP slots based on our players' spins – this is in stark contrast to slots suppliers who get their data from thousands of simulated spins.
A Good Hit Frequency
Our tool tracks players' spins to establish the hit frequency. Slots that have a high hit frequency are more entertaining, but usually deliver less big payouts.
Different Volatility = Different Rewards
Volatility is a term used to describe the frequency of payouts, the amount paid out, and the level of risk involved in a particular game. Essentially, volatility relates to how the payout potential of a slot is distributed across the game experience–whether spread out across the game or concentrated in rare, big wins.
Broadly speaking, low volatility slots are predictable, with high hit rates but relatively small payouts. High volatility slots have low hit rates but have the capacity to deliver tremendous payouts.
Considerable Max Payouts
The max potential payout of a slot is a big part of what makes a slot attractive to players. Suppliers often make tall claims about a slot's max potential. By using our spin-tracking app, you can compare the maximum win triggered by our community to what the supplier claims is the maximum possible win.
Slot Tracker Tracks All Payout Data for over 3,700 slots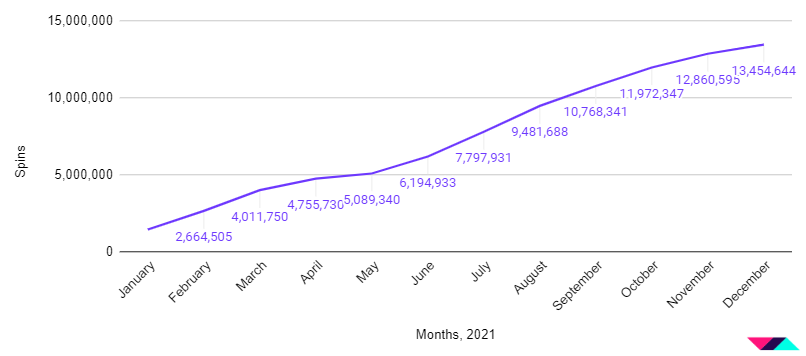 There has never been a more effective tool to determine the best payout slots online. Slot Tracker is designed to track data from players' spins. This data is processed and fed back to players in the form of actionable statistics. These stats enable you to know precisely how a slot has been performing rather than take supplier stats at face value.
How to Track Slot Payouts Using Slot Tracker
The best online slots payout percentage rates can be found on our app or desktop console. We provide key stats based on RTP, Hit Rate, Best Win, Profit and Loss – all of which enable players to judge which are the highest payout slots online. Simply look through our stats to find a slot you think matches what you're after.

As you spin through our app, a pop up screen will show statistics based on the outcome of your rounds. These statistics will change in real time as you play. You'll be able to easily compare your gaming experiences to those of the community. If the outcome isn't to your liking, you can easily look through other best payout online slots by seeing the slots ranked according to the community's spins.
You can also view your own stats to show which slots gave you a desirable outcome on a past session. For instance, you can review your highest win, or the slot game that gave you the best RTP, and you might decide to return to that game. The stats will be saved so you can always review your profits, losses, and all other information further down the line. In this way, the tool is a fantastic record-keeper that supplements your gaming activity.
Are Highest Payout Slots Safe to Play?
Slot Tracker works with casinos that have been vetted for player safety. They offer a range of payment options that are secure, and professional customer support to help you with any technical issues that might arise. The slots themselves are hosted on supplier websites – these are serious players in the industry with years of experience that put player safety at the centre of their business. Before slots can be released, they have to be deemed compliant by a number of different regulators and state entities.
Are Best Payout Slots Fair?
Online slots are highly regulated and have their random number generators (RNG) tested and certified by independent accredited test facilities (ATF). These test facilities ensure the randomness and fairness of these products, but slots are inherently unpredictable. Always remember to use our suggested best payout online slots only for entertainment. Please refer to our responsible gambling page for more information.
Where to Play the Best Payout Slots
The world's best online casinos offer the best payout online slots. The choice of casinos can be overwhelming. We made a list of 5 top casinos to help guide you.
The Best High Payout Slots for Mobile
Mobile is currently where most players play slots. Suppliers optimise their design of games for this device. Below is a list of the top 3 high payout slots to play on mobile:
Dead Man's Trail – This truly unique pirate game by Relax gaming offers a dark take on the pirate genre. Beautifully crafted with a moving soundtrack to boot, the slot takes you on a journey deep inside the Caribbean. The game's features include the Dead Man's Trail Bonus which transforms the game into a treasure map and can lead to big rewards.

Extra Chilli – Big Time Gaming's Megaways follow up to Bonanza – one of the most successful and popular games ever made. This game takes on a latin theme and is as unique visually as it is fun to play. The game is a Megaways game and the number of paylines can expand to 117,649 Megaways. Three bonus symbols triggers 8 free spins, where an unlimited win multiplier and the potential to land more free spins can lead to significant wins.
Scruffy Duck – In Free Spins, players get to pick one of 5 ducks which surface inside a pond. Each duck awards a different feature that gives the player a greater chance of landing big wins.
Top Providers of High Payout Slots
One of the key advantages of our tool is that it enables our community of players to put suppliers' claims to the test. Based on the considerable number of spins that have been tracked, we can show you the top 3 game providers of best payout slots online, shown below.
Quickspin – Big Bad Wolf – Well made graphics and the exciting Free Spins bonus game come together in this award winning slot. The Swooping Reels feature combined with the Pigs Turn Wild feature can add a huge number of exciting respins to the game, leading to sizable payouts.
Big Time Gaming – Chocolates – Another great Big Time Gaming slot with a delightfully upbeat chocolate theme. Chocolate boxes can open to reveal up to 4 of the same matching symbols, delivering up to 65,536 ways to win.
NetEnt – Dead or Alive – The West is alive and well in this high volatility adventure. The game was released in 2009 and is renowned as one of the all-time classic slots.

Want More Highest Payout Slots Online?
Our tool is constantly tracking all popular slots. Finding the best online slots payout percentages is a continuous process. Some of the slots that score highly fade while newer ones emerge. What's certain is that whenever a pattern starts to emerge, our spin-tracking tool is the best place to identify it. Get familiar with all the different stats and find slots that suit your style of play.
FAQs
How can I get lucky while playing slots?
At Slot Tracker, we don't believe in luck. We take a data-driven approach to online slots. By gathering data from our community's tracked spins, we investigate the claims of top suppliers to find out the real stats behind industry-leading slots. In this way, we equip players with insight into casino products to enable them to make better decisions.
Which is the best payout online slot?
We included a few top-performing slots in the article above. But if you want more information, we encourage you to look through our console. The single best-paying slot online (based on our community's tracked spins) is constantly changing as more and more players spin. Also, determining the best payout online slot depends on whether you're measuring according to RTP, best win, or hit rate.
Are slots safe? 
Slots are highly regulated and must conform to various regulations according to the many jurisdictions that they are active in. Suppliers need to get their products tested by internationally accredited testing facilities (ATFs) and the random number generator of the slots is tested to ensure randomness and fairness. Slots are therefore engineered to be random and difficult to predict. This is why players should only play for entertainment. For more information on responsible gambling, please check our responsible gambling page.
Why do some casinos pay out less?
Casinos often do due diligence on big wins before money reaches a player's bank account, but the casinos our app works with are licensed casinos with solid, trustworthy reputations. Ultimately, a casino's overall RTP has less to do with the casino itself and more to do with the specific game's it has on offer – which are made by providers. We encourage you to research the way RTP varies according to providers, and which games seem to offer better payouts than others by checking our stats.