About
Slot Tracker
Here, we will talk about the story of our tool – the history, the milestones, and the experiences that led us to where we are today.
A Brief History of Slot Tracker
In 2017, a group of slots aficionados had an idea: to record the data of spins inside a spreadsheet to determine which slots they should spend their time (and money) on.
But they quickly ran into a problem: it was too time-consuming to track spins manually, and the data gathered was too limited to be of any real use.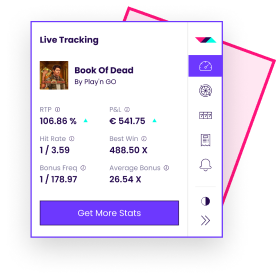 The idea for a fully automated, real-time spin-tracking tool was born – one driven by our community that's open and transparent.
As the spin-tracking tool became more sophisticated, it began to be noticed by the gaming world. In the past, the only statistics on slots were based on fact sheets provided by game manufacturers. Now, a tool existed that allowed players to pool their resources to measure the games' performance themselves. But it still needed considerable investment, manpower, and resources to get it off the ground.
Game Lounge Ltd. acquired the start-up project in 2018, determined to ensure it reached its full potential.
Today, the Slot Tracker project continues to grow, and what comes next is unprecedented.
Our values steer us
Without a solid understanding of who we are, we would never have gotten as far as we did. Our values form our identity and our vision. It didn't take long for us to map out exactly who we are. We are:
Driven by Data and Statistics

---

We specialise in data. Our data expertise is the most valuable thing we can offer players. The larger the volume of data, the more effective our tool. This is a fundamental principle that drives us.

Focused on Accuracy

---

The accuracy of our data is integral to our success. We understand that players trust the statistics we display, which is why we have measures in place to continuously check and verify the accuracy of our data.

Committed to our Community

---

Without a large community of players tracking slots, our tool wouldn't be able to deliver on its potential. That is why we strive to create a sense of community, where everyone contributes voluntarily to building our project.

Creators of an Alternative Approach

---

We offer guides that show players how to use our technology to their advantage to make smarter choices when playing slots.
What We Do
Slot Tracker is a tool that tracks your spins. But what does that mean? It means that all data related to every single spin you make is collected and turned into statistics: RTP, profits, loss, you name it.
But really, it's more than that. It is the community of players that make this revolutionary concept possible, and the people that work on the tool day in, day out, guided by our values, achievements, history, and mission.
The Slot Tracker Timeline
2023
Bonus Buy tracking is launched as a response to the rising popularity of this feature. On February the 23rd, the tool surpasses 100,000,000 spins tracked.
2022
The team reveals a new brand identity, asserting itself as an important and growing player in the iGaming landscape. As the tool widens in scope, tracking an ever-growing number of slots and casinos, the company launches a recruitment drive to grow the team.
This year, the Slot Tracker mobile app is released, and both the extension and app are published in Chrome Web Store and Google Play Store.
The number of members surpasses 12,000, all actively using the tool from a diverse range of countries. The average monthly spins exceeds 1,000,000 for the first time in the project's history.
2021
The tool is updated to version 3.0, marking a revolutionary upgrade in its architecture. All the elements (console, website, and extension) are completely rewritten from scratch.
While still in an early stage of development, the tool builds a community of 7,700 members who cumulatively track more than 13,454,000 spins. Almost 600 slots and casinos are added to the tool.
2020
The tool is updated to version 2.0, with more robust tech infrastructure, better support for every spin tracked, and more agility to adapt to changes from game providers.
Slottracker.com is split into four connected but uniquely valuable areas – the website, the extension, the console, and the widgets – that can cater for slot players and industry players alike.
2019
Game Lounge Ltd. begins to invest heavily in building a robust tech infrastructure for the tool. A team of developers is built and tasked with taking the project forward.
2018
Game Lounge Ltd. acquires slottracker.com from the US start-up Innovative Game Solutions Partnership for €1,000,000.
Slot Tracker is Featured On…
A number of different websites utilise the Slot Tracker widget to better equip their players with key stats. This is a great service that we offer to a select group of online casinos.
Working at slottracker.com
Working in the gaming industry is exciting, with an endless churn of new games, each with breathtaking animation, stunning graphics, unique mechanics, and gameplay.
At slottracker.com, we are lucky to work with a wide range of slots from all providers and virtually every casino worth knowing about.
We are in a unique position to have insight into how players from various countries react to different games and casinos – and we delight in sharing that information with the world.
Our team is a tight-knit group that shares a passion for all we do.