High RTP Slots

on Slot Tracker

Feeling overwhelmed with so many slots to choose from? We're here to help. Using data gathered from our community, this article will give you a recommended list of high RTP slots.
High RTP Slots Based on Player Data
This is the list of high RTP slots, created using community-data that was generated from players' spins. Click on the names to learn more about these online slots with high RTP, or give the games a spin yourself.
*Correct at the time of writing.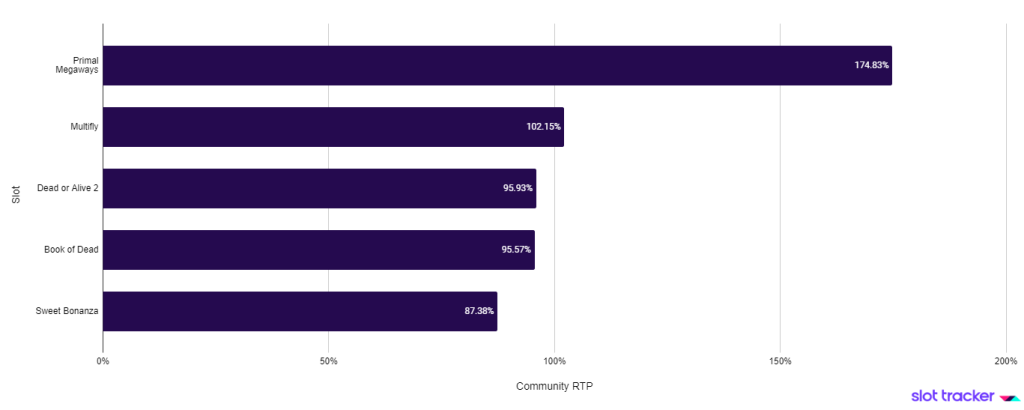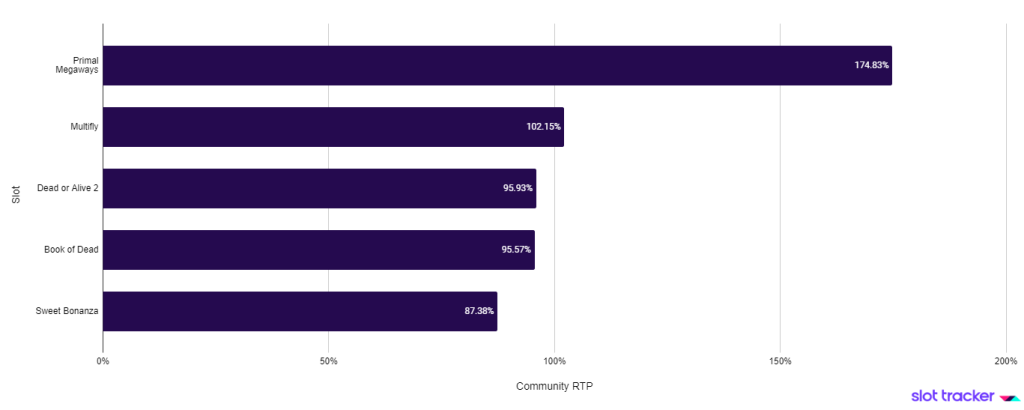 What Is RTP and Why Do You Need to Know About It?
RTP stands for Return to Player. It describes the percentage of wagered money that a slot game pays back to the player (or players) over time. RTP is calculated with the following formula:
Total Wins / Total Wager x 100 = RTP
For instance, if we look at Dead or Alive 2 and apply the above formula, we're left with the following:
€1,394,738.71 (total wins) / €1,454,909.73 (total wager) x 100 = 95.86%
Note: this figure is not intended to be a prediction of what you stand to win back on a single spin, but is calculated over the long term.
Another way of viewing RTP is in relation to 'house edge'. RTP is essentially the opposite of house edge. Casino products are made to give the 'house' an edge over the player—this is how casinos make money. If the RTP of a given slot is 95%, that means that 95% of money wagered on a slot is gained by players—the other 5% is money that goes to the casino (house edge).
Every time a player gambles, they weigh up the risk vs the reward. This is at the heart of most forms of gambling. With this in mind, it is only fair that players know the RTP of slots as this can give them a sense of the risk inherent in playing the game. Manufacturers of slots provide RTP stats for every game they produce in order to be compliant. Suppliers arrive at their RTP stats after thousands upon thousands of simulated spins. Our tool scrutinises supplier's claims by measuring stats ourselves based on our community's spins.
While there are many factors involved, knowing the RTP of a game allows you to have a sense of the amount of money you might possibly win. This is why RTP is important to know: it is a good indicator of your chances of winning.
Slot Tracker actually goes beyond RTP and offers a comprehensive range of stats and unique insights into slots. It is also important to remember that RTP is not an indication of how much you stand to win on a single spin; you must always consider other factors such as volatility and hit rate when assessing your chances of winning on a slot. Read on to find out more.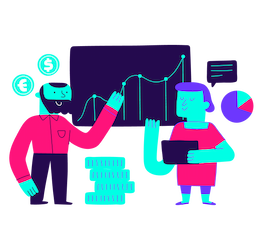 How important is RTP for a player?
RTP is definitely an important statistic as it is an indication of the amount of money a slot pays out to players over time—put simply, the higher the RTP, the better. With our tool, you can have the RTP of a slot based on your spins only, or the total aggregated spins of our Slot Tracker community.
This is fundamental to Slot Tracker's approach to stats. Almost all our statistics are separated into two datasets: personal and community. You can use your own personal stats to keep records of your own gaming activities. So when assessing RTP, you might wish to look at your own personal data, or the community data. Which slots did you spend most money on? Which slots were lucky for you? How much have you spent on games in total?
Many suppliers often boast that they make the highest RTP slots. By using our tracking system, players can investigate these claims. RTP should not, however, be taken at face-value as there are other stats that are also important, such as top win, hit rate, and volatility.
What's the Difference between RTP and Volatility?
As explained previously, RTP stands for Return to Player and refers to the percentage of total wager that the player should win back over the long term. Volatility is related to the distribution of a slot's RTP; a low volatility slot is more predictable and can be expected to dish out a frequent stream of (small) wins. High volatility slots pay out infrequently, but occasionally drop significantly large wins.
Suppliers often advertise slots as being either low volatility or high volatility. High volatility slots are generally understood to imply big win potential.
Let's look at two well known examples:
Starburst – The original Starburst is a well known example of a low/medium volatility game, with a max win of 500x and an RTP of 96.09%.
Starburst XXXtreme – The sequel to the original, Starburst XXXtreme is an example of a high volatility slot with a max win of 200,000x bet. RTP is between 96.26% – 96.45%.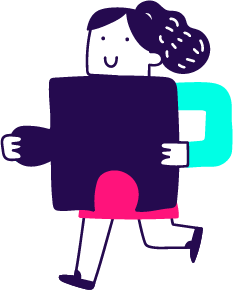 As you can see, although the RTP of these games is similar, the max win is very different. This is possible because of how wins are distributed within the slot's maths model.
Why not compare these two sister slots and see whether the official numbers add up?
Slot Tracker tracks RTP of over 3,700 online slots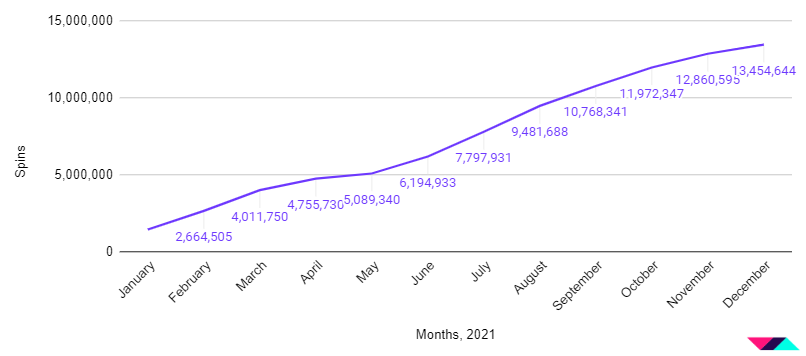 Slot Tracker is a technology that equips you with accurate, player-generated data on the best slots available. By tracking each and every spin a player in our community makes, we are able to figure out the best high RTP slot for you. You can find this out based on your own personal spins, as well as the high RTP online slots according to our community of players.
How to track RTP using Slot Tracker
Stats – including RTP – are calculated by our tool and very little input is required by you (the player). Our console displays RTP in two separate tabs: personal and community. These are based on two separate datasets: your own spins and those of the community. As players in our community spin, the Slot Tracker stats adjust accordingly. These stats are accurate reflections of the experiences players have had playing online slots. If a slot that ranks as a high RTP slot hasn't had many spins tracked, it is likely that the statistic might be unrealistic, and it will therefore be automatically flagged.
Are high RTP slots safe to play?
Player safety is something we take very seriously. We can guarantee that the slots we link to are compliant with regulations from the manufacturer's end as well as the operator where you are playing the game. The games have not been tampered with in any way.
Are high RTP slots fair?
The slots we've linked here have been vetted by independent accredited test facilities such as eCOGRA to ensure that they meet all regulations. This includes player protection, fairness, and security compliance for the regulated markets in which they operate. The slots' RNG (random number generator) has been thoroughly checked to ensure that it performs as advertised (randomly and fairly). Visit our responsible gambling page for more information on how to play safely.

Where to play the best high RTP slots
You can find the best high RTP slots at the world's best online casinos. We've listed a few below:
The Best High RTP Slots for Mobile
In many countries, mobile far outstrips desktop as the device of choice for players. Game mechanics, design and aesthetics are often built with a mobile-first approach. Here are a few slots that are extremely popular on mobile:
Dead Man's Trail—Walk in the footsteps of fallen pirates in search of lurking riches in Dead Man's Trail. Official RTP: 96.29%
Extra Chilli—A Megaways masterpiece by Big Time Gaming. Official RTP: 96.19%
Scruffy Duck—This classic 2017 NetEnt game is lots of fun! Official RTP: 96.38%
Top Providers of High RTP Slots
The high RTP slots listed in this article are created by a handful of the biggest slots suppliers in the industry. We've listed them below.
Last Word on High RTP Slots
Most players seek out high RTP online slots. Our Slot Tracker tool is a fantastic way to know the real performance of slots and the experiences other players have had while using these products. Sift through the data and assess RTP according to casino, provider, individual slot, personal data, and community data. Some of the results might surprise you!
FAQs
Do High RTP online slots pay better than regular slots?
Our Slot Tracker tool gives you information on the RTP of slots based on players' experiences. In this way, our tool does not take supplier stats for granted and relies on data provided by the tracked spins of our player community. We strive to ensure that all the statistics available to you – whether through the console or on the mobile app – are accurate reflections of players' experiences; but we cannot guarantee that the high RTP slots we recommend will deliver on your expectations. Slots are inherently unpredictable and it is important to only use these games for entertainment and never with the intention of making a profit.
Which is the best high RTP slot that I should play?
We update our list of best high RTP slots once a week. This article should provide some suggestions on games that you might enjoy, but we strongly believe in player autonomy. Why not download our Slot Tracker tool and look through the data to decide which game suits your style of play the best? Look through the metrics that were explained above and try the games for free (available in most countries) before placing a wager. While you're playing the game, monitor your RTP, and if the game doesn't feel like it's delivering on its promise, you might decide to try a different one.
How does your tool work?
Our tool works by tracking players' spins. Once the app (or desktop extension) is downloaded, the tool will begin tracking spins and generating data. This data is then converted into actionable statistics that give you an insight into the performance of the games. For more information on what stats will be available to you once you start using the tool, refer to the article above or visit our main page.
Are supplier stats incorrect?
The short answer is no. Suppliers generate stats after thousands and thousands of simulated spins. We use home-grown data gathered from players' spins to give you more insight into games. For instance, a supplier might advertise a slot's maximum win. This win might be theoretically possible, but the chances of landing it are so slim as to not be realistic. Our tool is great for comparing actual player experiences with suppliers' claims. This is why we encourage players to use the tool to do their own research and come to their own conclusions on top slots.