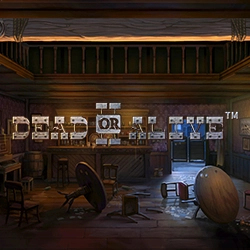 Stats Updated On : November 30, 2023
Dead Or Alive 2
Discover why Dead or Alive 2 is a popular choice among our community, with 3,684,187 total spins tracked. Join us as we analyse the data, we even played 50 real money spins on the game.
Very High
Community Volatility
Join the Slot Tracker community to...
Track your slot data in real-time
Access slot insights from over 100 million spins
Compare your stats to our community's
Join 728 community members
tracking this slot
Dead Or Alive 2 Community Data
This data is your snapshot of how this slot is tracking for the community.
€20,396.68
Best Monetary Win
40,559.22x
Best Multiplier Win
Dead Or Alive 2 Community Bonus Data
5,792
Total Bonuses Tracked
Dead Or Alive 2 High RTP Casinos
Here are the top high RTP casinos for this slot.
Dead or Alive 2 on Slot Tracker
Dead or Alive 2 is one of the favourites of our community and currently has 3,684,187 spins tracked. It was created by NetEnt. We first started tracking this slot on 24th April 2019. And it is fast becoming a legend in its own right.
Soon after the game's release, word quickly spread through player forums and the streamer community of the slot's potential for dropping impressive wins.
This comes as no surprise: the game is designed to focus its payout potential into a small number of concentrated wins. In fact, the max win of the game is 111,111x.
Legacy of the Original
First released in 2009, the original game weaves legends of the Old West such as Jesse James and Billy the Kid into the gameplay. Sounds of guns cocking and drunken bar banter further immerse the player into the Western theme. The game was one of the slots that made the popularity of high volatility slots go through the roof. Landing a line of Scatters in the main game drops a cool 2,500x, and the Free Spins levels (supposedly) sends the max win to 12,000x.
It is possible to land a line of sticky wilds in the Free Spins levels – the search for this wild line is a big part of the original's cult status. Message boards and streamer videos are rife with references to the wild line, and the game has built up a loyal fanbase over the years.
Dead or Alive 2 online slot took the franchise to the next level and brought the game to a new generation of players. Impressive visuals and an engaging soundtrack truly brings its world to life.
Slot Tracker provides all Dead or Alive 2 Statistics
We played 50 real money spins on this slot to take a snapshot of how the game performs. You can find out exactly how the game performed below!

We've also included Slot Tracker stats that are based on the 3,684,187 spins the community tracked.
Dead or Alive 2 RTP
The current RTP of Dead or Alive 2 is 95.32%. According to NetEnt, its RTP is 96.8%.
By the end of our 50 real money spins, our tracked RTP was a whopping 683%*! We know that many players are very interested in High RTP slots, so we provide guides on our website that track these slots.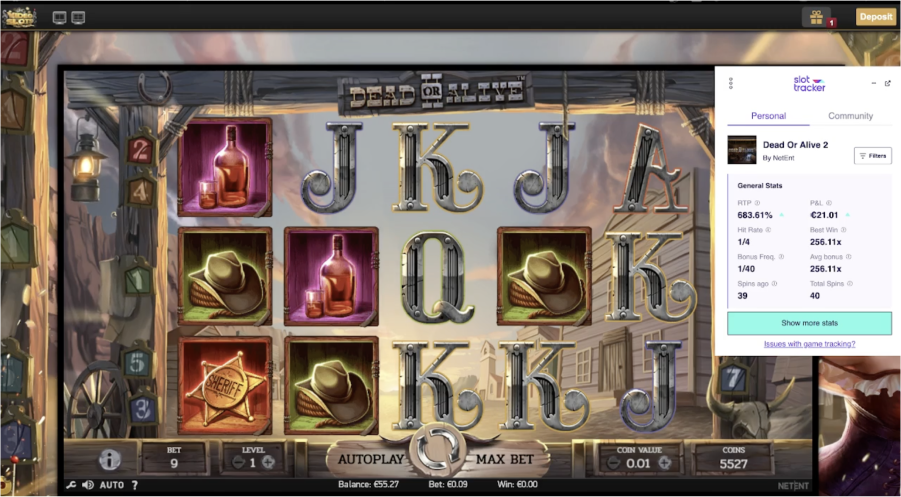 *Note: your experience playing the game may differ.
Hit Rate
According to NetEnt, this slot's hit rate is 29.80%. Our real time data displays a hit frequency of 1/3.4 (29.81%). What do you make of this? Remember, the strength of this slot lies in its capacity to deliver big wins rather than frequent small wins.

We achieved a hit rate of 1 / 4 when we played 50 spins on this slot.
Bonus Frequency
Bonus frequency is a key metric to consider. Dead or Alive 2 contains 3 in-built free spins games – each one having its own unique mechanics. As a player, you want to try these different games – keep in mind that the payout potential tends to be higher in bonus levels.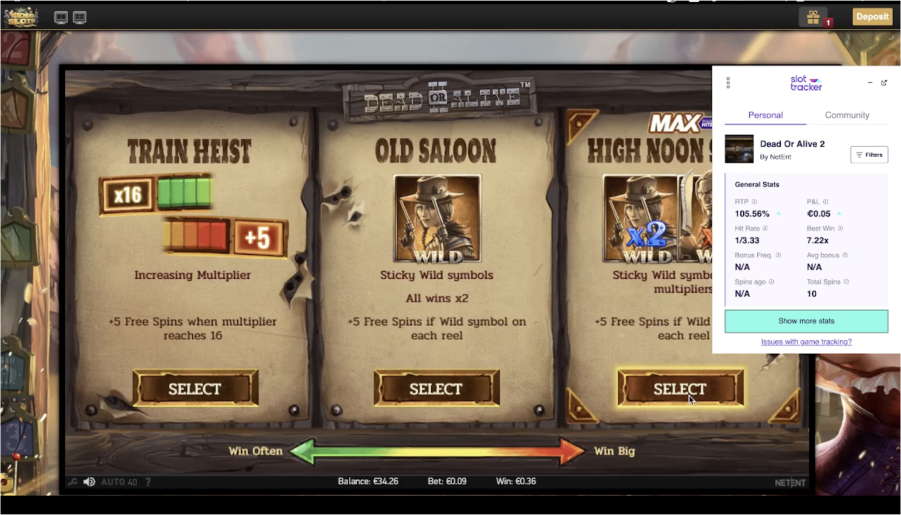 The option to buy into free spins is therefore particularly attractive. Our tool has tracked an average bonus RTP of 58.65x. If you're seeking to land bonuses the normal way, the game offers a bonus frequency of 1/208.3 (0.48%).
You should also head over to our console to look at the stats we've recorded for bonus buys. These are statistics that pertain to bonus spins that were purchased by the player.
When we tried the game out ourselves, we were delighted to land 3 scatters whereupon we were awarded 12 free spins. We chose the High Noon Saloon game (see video posted below). All three bonus games are unique in their own way, but High Noon offers the highest max win potential according to supplier stats (over 100,000x). Any wilds that land in High Noon add to the multiplier. 2 wilds gives a 2x multiplier, 3 wilds gives a 3x multiplier, and so on.
Min and Max Bet
The minimum bet for this slot is €0.09, while the maximum bet is 9.
Dead or Alive 2 Volatility
As mentioned above, Dead or Alive 2 volatility is High. Slot Tracker data has given the game an 'extreme' volatility rating, confirming NetEnt's stats. There are plenty of other High Volatility slots we track on our tool, but this title is certainly one of the most popular.
The extreme rating, however, applies to normal gameplay. When it comes to tracked bonus buy spins – that is, bonus rounds that have been purchased by the player – the volatility rating is different. Until we get more tracked Buy Bonus spins, we cannot have a clear statistic.
In my opinion, this is a great game for big win hunters who are willing to stick it out in the hope of landing a significant win.
Dead or Alive 2 Best Win
This statistic is key as Dead or Alive 2 is a slot that claims to offer a max win of 111,111x. The top win we've tracked so far? 40,559.22x (4,055,922.2%). A respectable win, no doubt, but some way off what NetEnt says the game is capable of! Find out more about the best payout slots we track.
As for our 50 paid spins, we were delighted to hit a best win of 256.11x!
Average Bonus
For a game that offers such exciting bonus rounds, I was somewhat disappointed by the low bonus frequency for normal gameplay, which currently sits at 1/208.3 (0.48%). This encourages players to purchase their way into the bonus rounds. At time of writing, we're still gathering stats on just how generous the bonus rounds are, and whether they're really worth paying to enter. How about you access the console and do some investigating of your own?
Dead or Alive 2 Slot Tracker Stats vs. NetEnt Stats
| | | |
| --- | --- | --- |
| Stat | Slot Tracker Community (based on [info data="totalSpins"] total spins)* | NetEnt Data (based on their official numbers) |
| RTP | 95.32% | 96.8% |
| Volatility | Very High | High |
| Payout** | €20,396.70 | 111,111x |
*The more spins tracked, the more accurate our community data.
**The community best win may exceed the provider max payout due to currency conversion on our slot tracking tool.
Symbols and Features
NetEnt has traditionally been associated with beautifully crafted slots, and this release is a fantastic example of this.
The symbols
High-paying symbols are represented by symbols representative of the Western theme. The sheriff's badge (highest paying symbol), revolver, cowboy hat, cowboy boots, bottle of bourbon. The sheriff's badge delivers a cool 1000x for five across a payline.

The next tier of symbols are the typical A to 10 royals, with the A being the highest paying symbol delivering 100x for five across.
And finally, the Scatter symbol, an ornate symbol showing two crowded revolvers below a buffalo skull.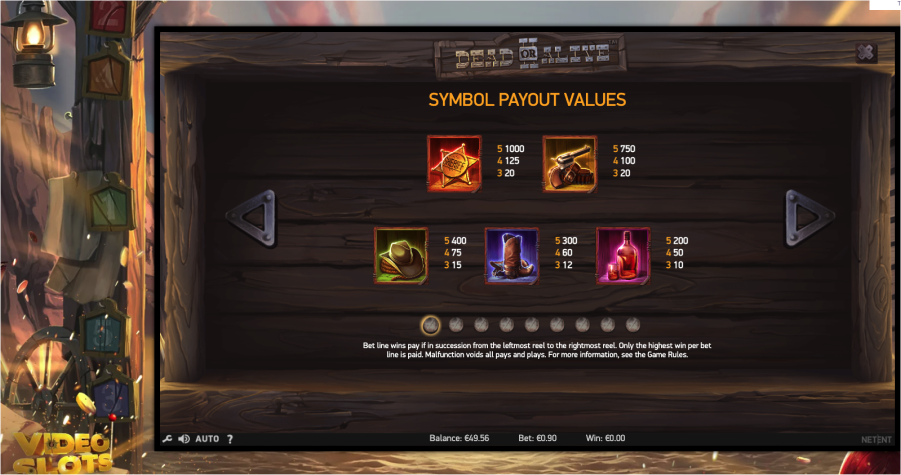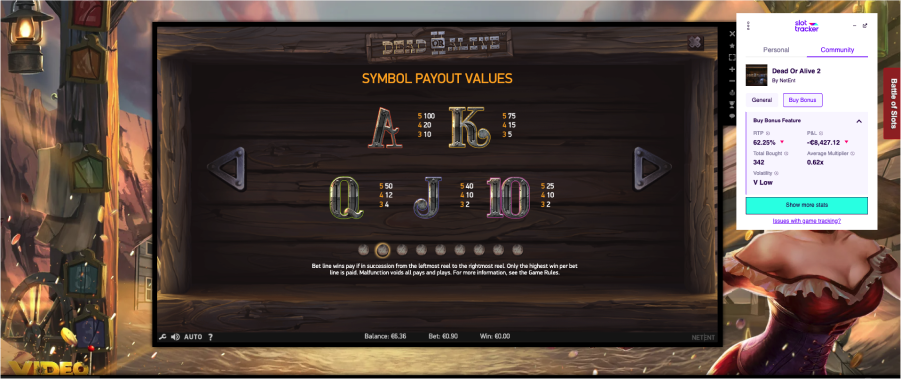 Wilds
Next up are the Wilds: five ferocious outlaws, each based on a real life villain from the old west. The substitute for the highest possible winning combination. In Free Spins games, some wilds are sticky and some have multipliers. See section entitled Multipliers for more information.
Free Play
Free play is available at most casinos (depending on your jurisdiction). You can familiarise yourself with the game before wagering actual money on it.
Multipliers
A range of Multipliers are available in the Free Spins.
Old Saloon: Similar to those in the original. You get 12 free spins, with each win awarding a 2x multiplier. Wilds are locked in place. If you land one or more Wilds, you get awarded 5 extra spins.
High Noon Saloon: You get 12 free spins. The emerging wilds remain in their place until the end of the round. If 2 wilds land on the same reel, a 2x multiplier is awarded. 3 wilds on the same reel award a multiplier of 3x. If a win includes several of the multiplier wilds, each multiplier is applied. Landing one or more sticky wilds delivers an extra 5 spins.
Train Heist: You start off with 12 free spins. A scale appears above the reels. When wild symbols appear on the reels, the multiplier increases by one unit. You get one additional spin for each wild symbol, and 5 extra spins if you attain the maximum multiplier possible, which in this free spins game is 16x.
Autoplay option
The game is available with autoplay with preset numbers of spins that you select from.
Bonus options
You can purchase bonus spins at a cost of approximately 66 times the bet*, for which you get 3 guaranteed scatters on reels 1, 2, and 3.
*depending on where you're playing the game.
Dead or Alive 2 Bonus Buy
The slot does not come with a progressive or a standard jackpot, but theoretically offers substantial winning potential with an official max win of 111,111x.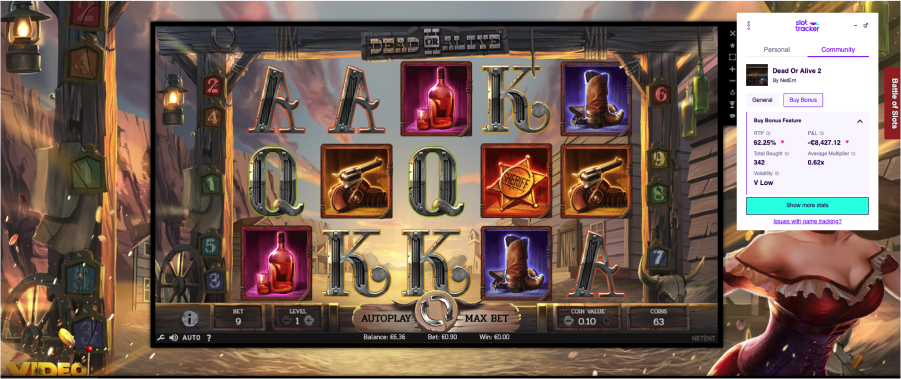 Did you know Slot Tracker tracks Dead or Alive 2 Bonus Buy Stats?
Slot Tracker tracks purchased bonus rounds separately from regular bonus rounds. You can get all the information you need on the game by looking at the Buy Bonus stats on the app, console, or extension.
Track Dead or Alive 2 at the community's top casinos
Here are four casinos that are popular with our community of players:
Graphics & Sound
| | |
| --- | --- |
| Graphics | 2D |
| Optimised for Mobile | 👍 |
| Music | Old-West Style, Instrumental, Americana |
| Special features | Clickable elements in the background that you can click on |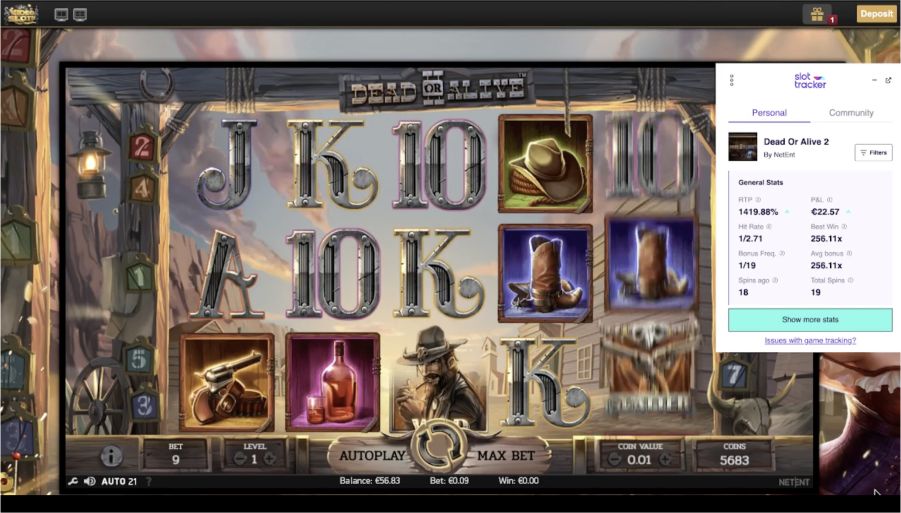 Solutions if you have some issues with a game
The game crashes due to a poor internet connection.
Restart the game when you are in an area with a better signal. Results from all completed rounds should still be in place. Contact the casino immediately if you have any questions.
The information on your tool does not match the game.
It could be that you need to update your tool. Get in touch with us and a member of our team will assist you or visit our website.
I would like to report a bug.
It is possible to report a bug through the tool. We encourage our members to report any technical issues that they find.
Our Final Verdict
It's hard to dislike this slot. Maybe it's the lazy lull of a Western town or the rush when you land that third Scatter – whatever it is, we love it. We had a phenomenal experience playing the game. Check out our Slot Tracker stats and make up your own mind on whether this game is worth a punt.
Other slots to track if you like Dead or Alive 2 slot
If you liked this game, you should definitely check out the original Dead or Alive which is an iconic game in the world of slots.
FAQs
Can I play Dead or Alive 2 for free?
Yes! Free play is available at most casinos depending on your jurisdiction.
How can I win big on Dead or Alive 2?
We cannot guarantee that you will win when playing this slot. Slot games are based on a Random Number Generator. Only play for entertainment purposes and never chase your losses.
Can I play casino welcome bonus on Dead or Alive 2?
This depends on the T&Cs of the bonus in question. Check the wagering requirements. 
Does Dead or Alive 2 pay out better than the original? 
According to NetEnt, the maximum win possible on the original is 13,888x, which means that Dead or Alive 2 has a substantially higher max win – but what have players experienced while playing this game? Check out our tool to find out. 
What is the highest win ever recorded on Dead or Alive 2?
We only have statistics that are based on our Slot Tracker community's experiences. Head over to our spin-tracking tool to find out the highest win recorder on this game by our community.