Progressive Jackpot Slots
Ever dreamt of hitting the jackpot? The best progressive jackpot slots available today can deliver life-changing wins that are truly eye-watering. Below, we look into some of the most popular jackpot slots.
The Best Progressive Jackpot Slots Based on Real Community Data!
One of the most well-known examples of these is Microgaming's Mega Moolah. Any player spinning on Mega Moolah actively contributes to the jackpot. Of course, this means that the contributing players span across multiple casino sites, both in your territory and globally.
So, which are the best progressive jackpot slots available?
| | | |
| --- | --- | --- |
| Slot Name | Biggest Jackpot to Date* | Play Here! |
| Divine Fortune | SEK 1,376,832.92 | LeoVegas |
| Holmes and the Stolen Stones | Not known | Dunder |
| Mega Moolah | CAD 20,059,287.27 | Videoslots! |
| Hall of Gods | €7,820,888 | Casumo |
| Mega Fortune | €17,861,800 | Betinia |
*Payout in currency in which jackpot was won
Which Are Some of the Most Well-Known Online Progressive Slots Wins?
Here are some of the largest wins of all time (at time of writing) and the jackpot slots that they were won on. At a glance, it seems obvious that Microgaming's Mega Moolah is the best-performing jackpot slot.
This 5-reel, 243 ways-to-win game from Microgaming is a relatively recent addition to the progressive jackpot network, having been released in 2020 (for comparison's sake, NetEnt's Mega Fortune slot was released in 2008). And yet, this game currently holds the record as being the slot that dropped the largest payout in history: $23.6 million (€19,430,723.60), won by a player in Belgium.
2. Mega Moolah (€18,915,721)
Having already built up a reputation for dishing out huge life-changing windfalls. On September 28th, the game delivered an incredible payout of €18,915,721. The game was won by an anonymous player on an android device playing at Grand Mondial Casino.
On the 30th January 2019, the extraordinary sum of $20,059,287 was won at Zodiac Casino by an anonymous player on the famous slot Mega Moolah.
4. Mega Moolah (€17,879,645)
On the 6th of October 2015, a jackpot worth £13,213,838.68 (€17,879,645.12) was won at Betway casino. This extraordinary jackpot win is extra compelling because we have information on the person who won it: Jonathan Heywood from Chesire, UK, a 26-year-old soldier, who stated that he would use the money to take care of his sick father. The supplier of this slot is Microgaming, whose CEO, Roger Raatgever, congratulated the winner, putting a nice finishing touch on this lovely rags-to-riches story.
Mega Fortune is one of the legendary jackpot slots in the industry. In 2013, a Finnish man in his 40s playing at PAF casino won €17,861,800, cementing the status of this slot as one of the dominant jackpot slots in the industry.
Source: Netent.com
What Are Progressive Jackpot Slots and can you land big wins?
With progressive jackpots, every time a player spins on the jackpot slot, a small percentage of the wager goes towards the pot. Over time, this jackpot can build to multi-million amounts and eye-watering figures.
How Important is a Jackpot for a Player?
There are different types of players who all play slots for different reasons. There are some who are after a casual gaming experience and want to win regularly. These sorts of players are after the entertainment aspect and are not too bothered if they don't win large amounts. The opposite of this would be players who play slots for the express reason to win a large jackpot.
Many jackpots come in different tiers. Divine Fortune, for instance, offers three jackpots: Minor, Major, and Mega. Similarly, Microgaming's Mega Moolah uses a system of Mini, Minor, Major, and Grand jackpots.
Most jackpot-seeking players are motivated by the desire to win the highest possible tier of jackpot.
How to Win a Jackpot
Each Progressive Jackpot slot is different. Let's take a look at one of the classics: NetEnt's Mega Fortune. The game looks like a standard slot consisting of 5 reels and 3 rows with 25 paylines. There are different stages before you can walk away with the jackpot.
First, you'll need to land Scatter symbols to get into the Free Spins round, which is triggered by a minimum of three Scatter symbols, represented by a bottle of champagne and two glasses. Free Spins begin with a x3 multiplier – for each Scatter symbol appearing on the reels, an additional multiplier is awarded.
The Jackpot, however, is to be found within the Bonus game, which can be accessed through the Free Spins rounds but also from the main game. 3 Bonus symbols appearing on reels 3, 4, and 5 activate the Bonus game.
The Bonus game consists of multiple wheels – with each wheel allowing you the chance to advance to the next one. You can win significant coin wins with the first wheel. The second and third wheels offer up coin or jackpot wins. Jackpot wins come in three tiers:
The Mega jackpot lies within the third wheel and can be reached (and won) through the third wheel.
You need to press the Stop button to stop the wheel from spinning and see whether you've won a prize.
This varies according to the slot that is being played, but it is a good illustrative example of how a jackpot is won.
Slot Tracker Tracks Countless Jackpot Slots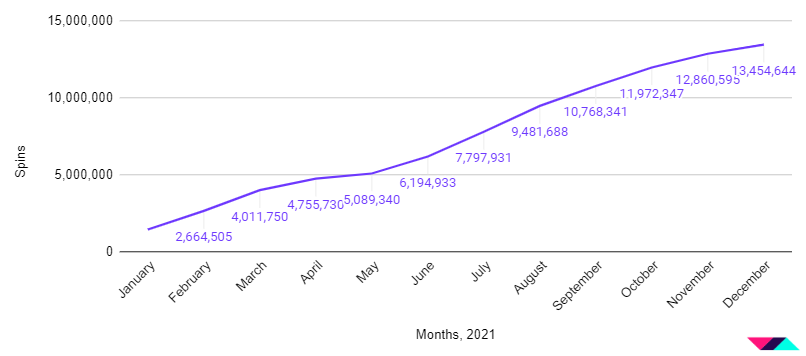 Our spin-tracking tool collects data from countless jackpot slots. These include but are not limited to:
Mega Fortune Dreams
Empire Fortune
Hall of Gods
Joker Millions
Big Series
Divine Fortune
Mercy of the Gods
China Shores
Mega Fortune
Mega Moolah
(*Slots currently available in your region might differ)
The current record (at time of writing) for the total sum of money paid out on a single slot was won by a Belgian player at Napoleon Sports & Casino, landing a jackpot of €19.4 million on Microgaming title Absolootly Mad™ Mega Moolah.
How to Use Slot Tracker
When you find a progressive slot you like, our spin-tracking tool will collect data as you spin. This data is fed back to you as stats. You can view these stats in two main data-sets:
My Data refers to stats that are based on the data taken from your spins. Community Data aggregates all our players' data together.
Stats available to you are as follows:
General Data:
Total Spins
In
Out
RTP (Return to Player)
Per Spin RTP
Profit & Loss
Win Data:
Bonus Details:
Total Bonuses
Avg. Bonus Win
Bonus Freq.
Other Stats:
Volatility Index
Wagering Rate
Win Ratio Chart
Download our tool to learn more about the various stats available to you.
How to Download Slot Tracker
You can download our tool through Google Play Store or Chrome Web Store. You can also manually download the Slot Tracker extension through this website. Once you've downloaded it, simply play slots through the mobile app or desktop extension, and the tool will automatically start tracking your spins.
Are Progressive Jackpot Slots Safe to Play?
Jackpot slots are safe to play in that they have been assessed to be compliant by all regulatory stakeholders and authorities. Online gaming is a highly regulated industry and stringent testing procedures are applied to products to ensure they are compliant.

However, we strongly encourage players to look at our Responsible Gambling page to learn more about the dangers of gambling addiction. Jackpot slots should only be played for entertainment and never with the intention or need of making a profit.
Are Progressive Jackpot Slots Fair?
Progressive Jackpots have their RNG tested by independent accredited test facilities (ATF). This ensures that the online products conform to the regulated markets that they operate in, meet all the stringent requirements regarding player protection, fairness, and security. A few ATFs include:
eCOGRA – Live Casino testing and certification
Gaming Laboratories International – Onsite security inspection
iTech Labs – Platform and game testing and certification
Technical Services Bureau – Platform and game testing and certification
When you play a jackpot slot on one of our affiliated casinos, you know that the casino and progressive slot has been tested and is a certified product operating within a licensed casino.

Where to Play the Best Progressive Jackpot Slots
Progressive jackpot slots are very popular but only a few have really built a name for themselves. These are mostly the ones that have delivered significant windfalls that turned them into household names. Games like Mega Moolah, Mega Fortune, and Divine Fortune. Most of the best jackpot casino slots can be found on the casinos we link to on our site.
The Best Progressive Jackpot Slots for Mobile
Some of the greatest payouts in the history of jackpot slots were made on mobile. In September of 2018, an anonymous user using an Android mobile device wagered 75 cents on Mega Moolah. Less than 50 spins later, he hit a jackpot worth a staggering $22.3 million. Here's our list of top 3 online progressive slots to play on mobile:
Holmes and the Stolen Stones – Five local progressive jackpots are up for grabs in this action-packed adventure featuring the great detective himself.
Great Rhino – Two big jackpots (the grand and the major) can be won when 14 or 15 rhinos land.
Mega Fortune Dreams – A progressive jackpot game which has notched some of the most impressive wins in the history of progressive slots – what's not to love?
Top Providers of Progressive Jackpot Slots
The list of jackpot casino slots is a short one.
NetEnt – Divine Fortune
Microgaming – Mega Moolah
Yggdrasil – Joker Millions
The (Real) Jackpot
There will always be a romance attached to the idea of landing a life-changing jackpot sum of money. Because of the huge potential sum of money that can be won, jackpot slots are some of the most enticing games available – which is why extra care needs to be taken by everyone concerned to ensure that the principles of Responsible Gaming are adhered to.
Players gamble for pleasure and entertainment (not out of a need to make a profit or to chase previous losses)
Players are aware of the likelihood that they will lose their wager and understand the associated risks
Players are in full control of their gambling activity
Players balance responsible gambling with other activities in their lives
Players do not cause harm or problems to themselves or others
The odds of winning such a sum from a slot game are incredibly remote, but jackpot casino slots can be a lot of fun when used responsibly. The key is to always be in control and play responsibly; that's the real jackpot!
Please refer to the relevant gambling authority in your area or visit Slot Tracker's Responsible Gambling page.
FAQs:
Do I need to make big wagers in order to win a jackpot?
Many players mistakenly think that they have to make large bets in order to qualify for the slots progressive jackpot. This used to be true of older slot machines which required maximum bets to qualify for the jackpot, but it is not true for the majority of modern slots. 
Many modern jackpot casino slots require players to place a wager on each of the various bet lines within an individual spin. This sounds daunting, but if a slot game contains 25 lines, and the game asks for a €0.01 to be placed on each line, this means that a minimum wager would be €0.25.
Indeed, many of the largest progressive jackpot slots payouts in history were achieved through very small initial wagers.
Are online progressive slots programmed to drop at a certain time?
This is another myth, but again there is some bearing in reality. There are some jackpots – such as Red Tiger's Daily Drop jackpots – which are indeed programmed to drop before a specific time every day. Certain types of jackpots drop every hour, and so on. The jackpot casino slots discussed in this article, however, do not fall into this category. There is absolutely no fixed cut off date for the jackpot to drop.
Is it possible to guess when a jackpot will drop?
No. The jackpot slots' RNG – just like with all serious slots – is certified by specialised, independent entities to be totally random. It is important for players to recognise that past results don't change the odds of a jackpot dropping. There is actually no such thing as a hot or cold jackpot.