Slot Tracker
Extension
Provides you with real-time, actionable insights from 3.5K+ slots.
You can think of the Slot Tracker extension as an automatic, accurate version of any slot tracking method you may have tried in the past.
Our slot tracking tool takes less than 5 minutes to get up and running. And once you're logged in, It loads adjacent to any slot you access to show you a current overview of your slot data and other useful information including current offers and that day's expenses.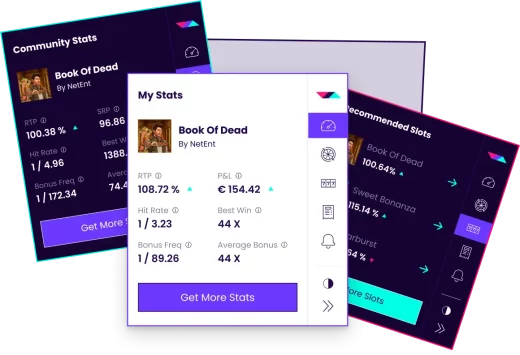 Use the Slot Tracker
extension

whenever you play online slots to see…
My stats

Real-time data tracking means that you're always up-to-date with key changes in your slot's RTP, SRP, your bonus frequency, average bonus and more from the My Stats tab.

Community stats

If you're curious about how the slot you're playing is performing for the Slot Tracker community, switch to this tab to see key statistics at a community level to inform your next move.

Recommend slots

You can currently track close to 4,000 online slots through our slot tracking tool which means it can be hard to choose which one to track next. Our hand-picked slots can ease your decision-making.

Activity

With faster and faster slot spins, autoplay and more, keeping on top of your slot spins across all slots and casinos can be difficult to do. Use our Activity tab to see this important information simplified.

Your all-in-one slot tracking tool

Channel your energy into picking the next slot you'd like to play and let us do the dirty work by keeping you informed of the need-to-know data that matters to you.
How the Slot Tracker extension really works
Put simply, the Slot Tracker extension acts as the link between the video slot you're playing and the Slot Tracker console.
Once it's active on your device and you place your bet on your favourite slot, be it Dead or Alive 2 or a new release from Yggdrasil, the extension reads the spin data from the game provider you're playing with and displays it back to you on the extension.
In the meantime, it's doing exactly the same thing for the hundreds of other Slot Tracker community members also tracking slot data, and aggregating that on the Community Stats tab.
Our tracking tool is kept up-to-date with the latest slot mechanics that providers create. By ensuring that cascading reel wins are tracked accurately or that your bonus buy rounds are correctly mapped to the base-bonus game ratio chart, our development team works continuously to maintain the preciseness of our tool.