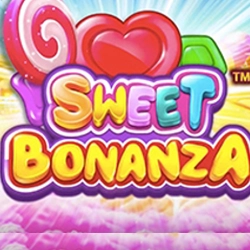 Stats Updated On : December 6, 2023
Sweet Bonanza
By analysing Slot Tracker community stats and the result of the 50 paid spins we played on the game, we'll find out what makes Sweet Bonanza so sweet.
Medium
Community Volatility
Join the Slot Tracker community to...
Track your slot data in real-time
Access slot insights from over 100 million spins
Compare your stats to our community's
Join 1078 community members
tracking this slot
Sweet Bonanza Community Data
This data is your snapshot of how this slot is tracking for the community.
€105,021.40
Best Monetary Win
969.64x
Best Multiplier Win
Sweet Bonanza Community Bonus Data
20,843
Total Bonuses Tracked
Sweet Bonanza High RTP Casinos
Here are the top high RTP casinos for this slot.
Sweet Bonanza on Slot Tracker

When game maker Pragmatic Play released this slot back in June 2019, they described it as a "high-volatility game which gives players an opportunity to load up on sugar and huge prizes."
Pragmatic Play states that the official max multiplier win is 21,175x and the game has been given an official 4.5/5 volatility rating, meaning that huge payouts are possible.
But does the game live up to these claims? The truth lies within the data.
Slot Tracker provides all Sweet Bonanza Statistics
Our spin-tracking tool gathers data and transforms it into statistics that elevate your gaming experience.
The 50-spin Test
We played 50 spins on the game to get a snapshot of how the game performs. 3 spins in and we were delighted to hit a 3.35x win and an RTP of 175%. It got even better when on spin 5 we hit a 5.45x win with the RTP shooting up to 221%.
However, by the time the game was over, we were left with an RTP of 57.24%. RTP is supposed to be measured over the long term, but after 50 spins we hoped to get a better return than the 57.24% we got.
On the bright side, we had a decent hit rate of 1 / 2.13 throughout our game session. Shame that we didn't land any impressive wins.
It's also a shame that we didn't land bonus rounds during our 50 tracked spins.
Sweet Bonanza RTP
Pragmatic Play gives an official RTP stat of 96.48%.
Our community RTP is currently 85.79% which is based on 1,217,689 tracked spins. Keen on high RTP slots? Find out more about the high RTP slots we track.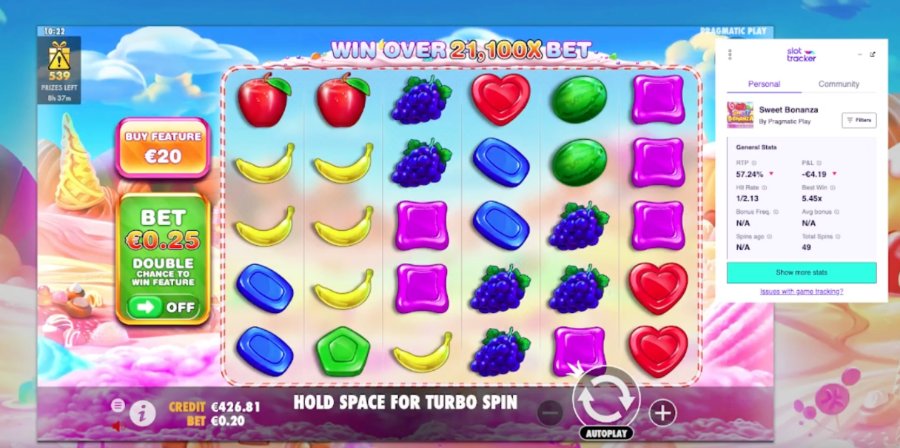 Sweet Bonanza Hit Rate

Unfortunately Pragmatic Play has not provided official statistics on the game's hit rate. You'll never have this problem with us! All our stats are accessible to the public. Players using our tool have established a win frequency of 1/1.8 (56.43%).
What do you make of this? You can get more data by visiting our console.
Sweet Bonanza Bonus Frequency
With a massive 21,000x your stake packed into the bonus rounds, you would be forgiven for being curious about how often you land the bonus rounds. The slot's bonus frequency is currently 1/38.1 (2.62%) frequency for entering bonus rounds through normal play.
Sweet Bonanza Min and Max Bet
Minimum bet is set at 0.20 while the maximum is set at 100. You can purchase entry into the bonus rounds for 100x your bet.
We set our bet to €0.20 for the duration of the 50 spins we played on the game.
Sweet Bonanza Volatility
This is officially a high volatility game. But what do our community's stats reveal? Based on the 1,217,689 spins played on the game, our tool has determined the slot's volatility to be Medium.
We didn't see major swings in volatility in the 50 spins we tracked on the game.
Sweet Bonanza Best Win
Pragmatic Play states that the maximum win for this game is 21,000x. Based on the
1,217,689 spins played on the game, the highest win tracked was €105,021.40. You can get more data by accessing our console.
We landed a best win of 5.45x after playing 50 spins on the game. Admittedly it's far way off the 21,000x max win, but still better than nothing!
Curious about the highest wins we've tracked on our tool? Discover more of our best payout slots.
Sweet Bonanza Average Bonus
The average bonus RTP for this slot is 5.16x. You can get more information on bonus frequency by visiting our console.
Sweet Bonanza Slot Tracker Stats vs. Pragmatic Play Stats
| | | |
| --- | --- | --- |
| Stat | Slot Tracker Community (based on 1,217,689 total spins)* | Pragmatic Play Data (based on their official numbers) |
| RTP | 85.79% | 96.48%  |
| Volatility | Medium | 4.5 / 5 |
| Payout* | €105,021.40 | 21,175x |
*The more spins tracked, the more accurate our community data.
**The community best win may exceed the provider max payout due to currency conversion on our slot tracking tool.
Sweet Bonanza Symbols and Features
The game achieves a playful, colourful, fun aesthetic with a theme based on sweets and fruit.
The symbols
High-paying symbols are represented by pastilles. Low-paying symbols are represented by fruit.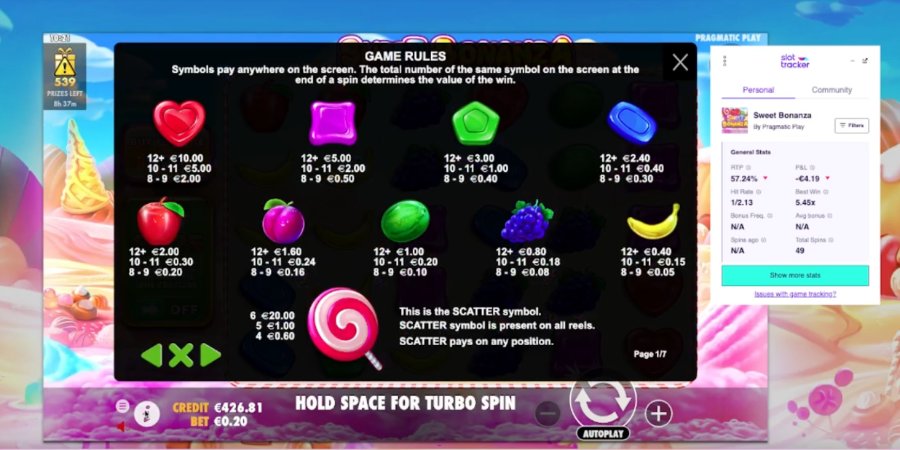 Wilds
Traditional Wild symbols are not included in this game. Instead, it relies on other features such as the tumble feature, free spins, and the multiplier lollipop to generate excitement!
Re-spins
The game does not have traditional re-spins, but it is equipped with a tumble feature. This means that after every spin, symbols that are part of winning combinations disappear, making way for new winning combinations. This continues until no more winning combinations appear.
Multipliers
In free spins, special multiplier symbols can land and take on a random multiplier of up to 100x. When the tumbling sequence ends, the values of all the scatter symbol multipliers are added together and multiplied by the total win.
Autoplay option
Autoplay functionality is allowed in most jurisdictions on this slot.
Sweet Bonanza Bonus options
In free spins, multiplier symbols can land and award random multiplier values ranging from 2x to 100x. To trigger, you will need to land 4, 5, or 6 lollipop scatter symbols at the same time.
Sweet Bonanza Jackpot
Jackpot is not available on this game.
Sweet Bonanza Bonus Buy
Bonus Buy slots are exciting! We provide guides on the best bonus buy slots around. If you want a surefire way to access free spins, you can use the Buy Feature: for 100x total bet, you can guarantee access to a free spins round. Another choice is to increase your bet by 25% to improve your chances of landing free spins. Note: Official game rules have called this feature an 'ante bet'.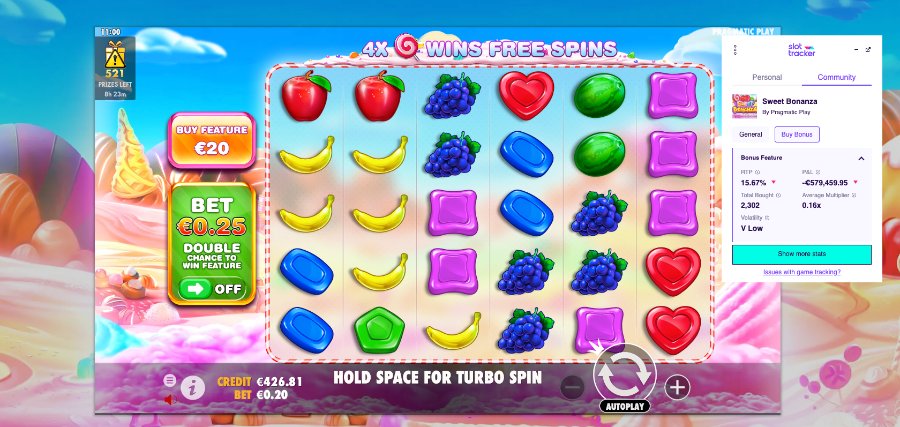 Did you know Slot Tracker tracks Sweet Bonanza Bonus Buy Stats?
Our spin-tracking tool tracks bonus buy stats separately from bonus stats. This clear differentiation ensures that players can assess a game's performance under normal conditions, without the influence of additional functionalities triggered through in-game purchases.
To check the bonus buy stats of this slot you just need to look at the buy bonus feature located on the console, extension, or app.
Track Sweet Bonanza with on the community's top casinos
There are several casinos where you can track Pragmatic Play slots. Here's a few that we recommend:
Sweet Bonanza Graphics & Sound
| | |
| --- | --- |
| Graphics | 2D |
| Optimised for Mobile | 👍 |
| Music | Sweet, cheerful music. |
| Special features | Scatter Pays |
Solutions if you have some issues with a game
If you notice a problem with our spin-tracking tool, report it to our team and we will get back to you shortly.
If the game crashes while you're playing, you should check your internet or get in touch with the casino directly. Kindly note that games are not hosted on our server and therefore any issue related to the actual game's performance is not related to us.
If an issue with our tool only occurs on a specific game, it is likely that you need to download an update to ensure you have the latest version installed.
Not So Sweet
A colourful, candy-themed design, tumbling reels, high volatility, and a free spins game with multipliers. These are all game elements that players love, and Pragmatic Play has clearly discovered a winning formula, but we feel the game lacks originality and is – dare we say it? – a tad too sweet. The free spins game is somewhat underwhelming, which is not good considering many versions of the game charge 100x to buy into bonus spins. All that won't matter if the game drops huge payouts. Why not see how other players have fared while playing this game? Check out our community stats and make up your own mind.
Other slots to track if you like Sweet Bonanza slot
If you like this slot, you might like the following games which have a similar theme and are based on high volatility.
Berryburst MAX – Berryburst Max takes the fruity excitement to the next level with higher volatility and bigger potential wins compared to the original Berryburst slot
Fruit Shop – A classic and refreshing online slot game with a fruit market theme, offering simple gameplay and free spins with multiplier wilds.
Sweet Alchemy – Mix candies and unlock enchanting bonus features in a quest for sweet wins.
FAQs
Is there a way to win more on slots?
Slots are based on an RNG (random number generator). They are engineered to be random. The only way to influence them is to buy access to bonus rounds.
Are Slot Tracker's statistics accurate? 
Our spin-tracking tool will give you accurate stats based on the result of the spins that were played on the game. We invite you to compare our stats to the supplier's official statistics which are based on thousands of simulated spins.
Can I win real money playing this slot?
If you play for real money, then it follows that you stand the chance of winning actual money. If you play the free version you cannot win real money. 
Can I trust the fairness of slots on your tool?
Reputable online casino games use random number generators (RNGs) to ensure fair and unbiased results. The games' fairness is regularly tested and audited by independent organisations to maintain transparency and integrity.
How do I trigger the free spins feature in the game?
To trigger the free spins feature, you need to land four or more Scatter symbols anywhere on the reels. Once activated, you will be awarded a specific number of free spins based on the number of Scatters you landed.
What is the maximum win potential in the game?
The official max win is up to 21,175x your bet (according to Pragmatic Play's stats). This means that if you wagered a certain amount and hit the maximum win, you could potentially multiply your bet by 21,175. However, it's important to note that this is the game's maximum potential and individual results may vary.