Stats Updated On : December 1, 2023
Dead Man's Gold
We are going to analyse Dead Man's Gold slot by ELK Studios using Slot Tracker's unique data-driven approach. We'll even play 50 spins on the game to see what happens.
Medium
Community Volatility
Join the Slot Tracker community to...
Track your slot data in real-time
Access slot insights from over 100 million spins
Compare your stats to our community's
Join 33 community members
tracking this slot
Dead Man's Gold Community Data
This data is your snapshot of how this slot is tracking for the community.
€481.66
Best Monetary Win
473.7x
Best Multiplier Win
Dead Man's Gold Community Bonus Data
Dead Man's Gold High RTP Casinos
Here are the top high RTP casinos for this slot.
Dead Man's Gold on Slot Tracker
An extremely well made game with rich graphics and innovative features that blend into the slot's theme. Although ELK Studios might not have the same dominance as some other studios such as Pragmatic Play (for instance), its slots are always innovative and entertaining. The game we're discussing has a maximum win of 25,000x and a high volatility. Its RTP is 94%. Let's compare that to other high volatility games: Dead or Alive 2 has an RTP of 96.8%, Sweet Bonanza has an RTP of 96.51%. So 94% seems a bit on the low side, but take a look at the stats on the console to see how things match up.
Slot Tracker provides all Dead Man's Gold Statistics
Our spin-tracking tool offers you statistical information on your own personal spins, as well as the accumulated stats of all players who played the game. These are organised into two separate tabs: personal and community.
The 50-spin Test
We played 50 spins on the game. Here's what happened:
Initially the game session wasn't very profitable. 15 spins in and the RTP was hovering around 33% with a best win of 1.6x. That all changed when we entered bonus spins on spin 24. In bonus spins we hit a best win of 63.8x which sent the RTP all the way up to 293.33%!

We were chuffed with how things went in bonus spins, but we hit a dry spell after that, finishing the game with an RTP of 159.49%.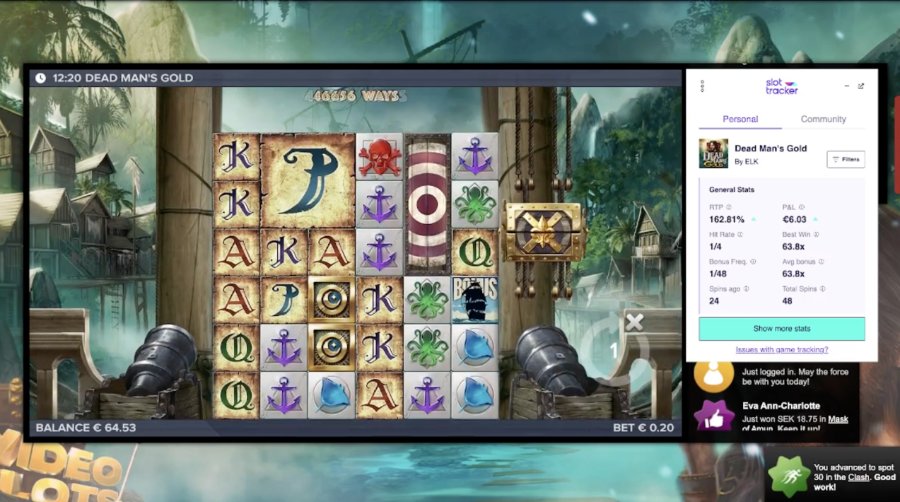 Dead Man's Gold RTP
As mentioned above, the game has an RTP of 94%. On our console, the game is currently displaying an RTP of 76.32% that's based on 10,426 spins tracked.
Hit Rate
Unfortunately ELK Studios has not provided official statistics on the game's hit rate. You'll never have this problem with us! All our stats are accessible to the public. Players using our tool have established a win frequency of 1/4.0 (25.15%).
What do you make of this? You can get more data by visiting our console.
Bonus Frequency
The slot's bonus frequency is currently 1/267.7 (0.37%) frequency per 100 spins for entering bonus rounds through normal play. During our 50-spin test, we managed to enter into bonus spins!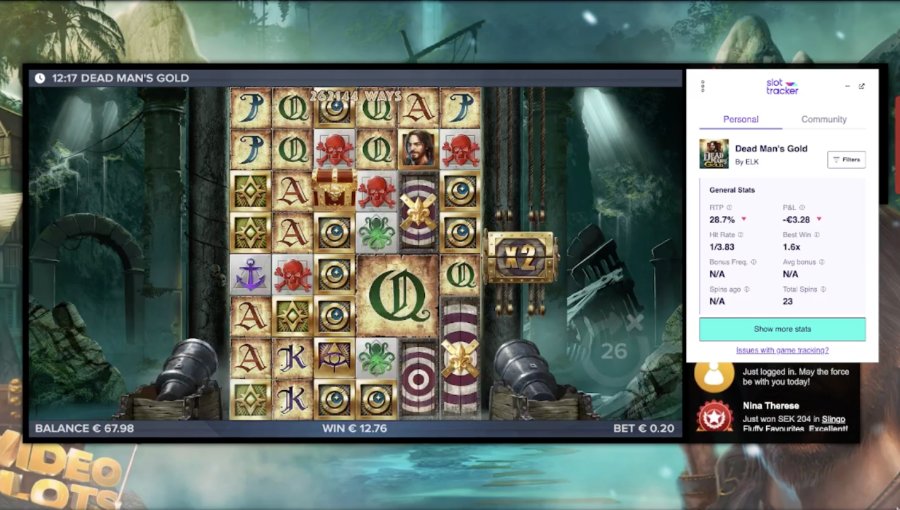 Min and Max Bet
Minimum bet is 0.20 while maximum bet is 100. That's a pretty good range of betting options that caters to small bet players as well as big win hunters.
Dead Man's Gold Volatility
This game is high volatility with a max win of 25,000x which makes it suitable for those players on the hunt for big wins!
Dead Man's Gold Best Win
The best possible win is 25,000x. During our 50-spin test, we hit a max win of 63.8x. The best win tracked on our tool so far is 473.7x (47,370%).
Average bonus
We were delighted to enter into the bonus rounds and hit a 63.8x win. But other experiences might differ. From 10,426 spins tracked, the max win was €481.70.
Dead Man's Gold Slot Tracker Stats vs. ELK Studios Stats
| | | |
| --- | --- | --- |
| Stat | Slot Tracker Community (based on 10,426 total spins)* | ELK Studios Data(based on their official numbers) |
| RTP | 76.32% | 94% |
| Volatility | Medium | High |
| Best Win** | €481.70 | 25,000x |
*The more spins tracked, the more accurate our community data.
**The community best win may exceed the provider max payout due to currency conversion on our slot tracking tool.
Symbols and Features
The pay symbols in this slot game are categorised into three groups: low, medium, and high. The low symbols consist of J-A symbols, while the medium symbols include a stingray, octopus, anchor, and skull 'n crossbones. The high symbols consist of a moon in a wheel, a star, an eyed pyramid, and Kane.
The symbols
The high, medium, and low-paying symbols look like this: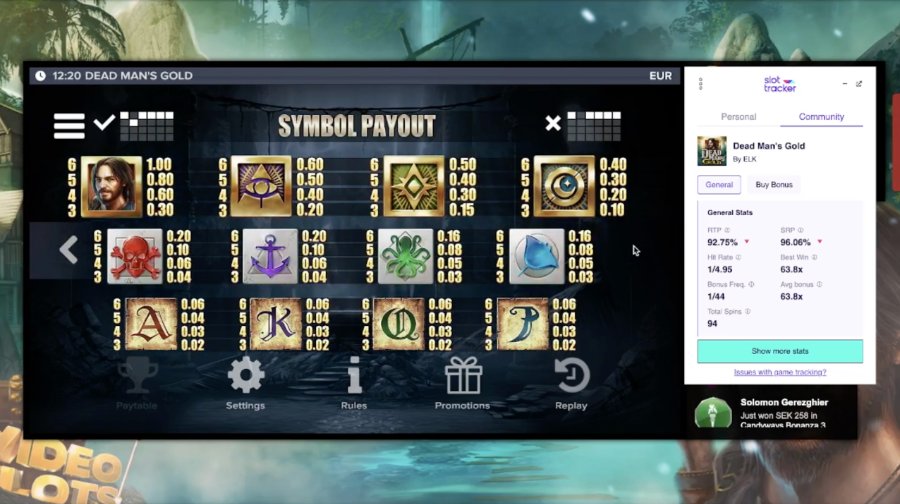 Wilds
Wild symbols can replace any pay symbols on the reels. Moreover, these wild symbols can appear in larger sizes of 2×2 or 3×3, making them even more powerful and increasing the chances of creating winning combinations.
Re-spins
This game does not have traditional re-spins.
Multipliers
Multiplier Treasure Target symbols are shot by the Pirate's Cannons and increase the persistent global multiplier. The global multiplier is persistent and never decreases during an ongoing game round.
Autoplay option
This game is equipped with autoplay functionality in most countries.
Dead Man's Gold Bonus options
This game has got free spins. The game has established a bonus frequency of 1/267.7 (0.37%) on our tool. These statistics refer to bonuses that are triggered normally (without bonus buy).
Dead Man's Gold Bonus Buy
Bonus Buy functionality is included through the X-iter feature. We've broken it down for you:

1. Big Block: For 5x you can guarantee a big symbol landing on the reels.
2. Chest Plunderer: For 10x the bet you get a guaranteed Bottomless Chest appearance.
3. Super Cannon Spin: For 25x the bet, the cannons will offer unlimited cannonball shots – this lasts for one spin.
4. Bonus: For 100x the bet, trigger the bonus game.
5. Super Bonus: Wager 500x the bet to activate the Super Bonus game, featuring cannons with unlimited cannonballs.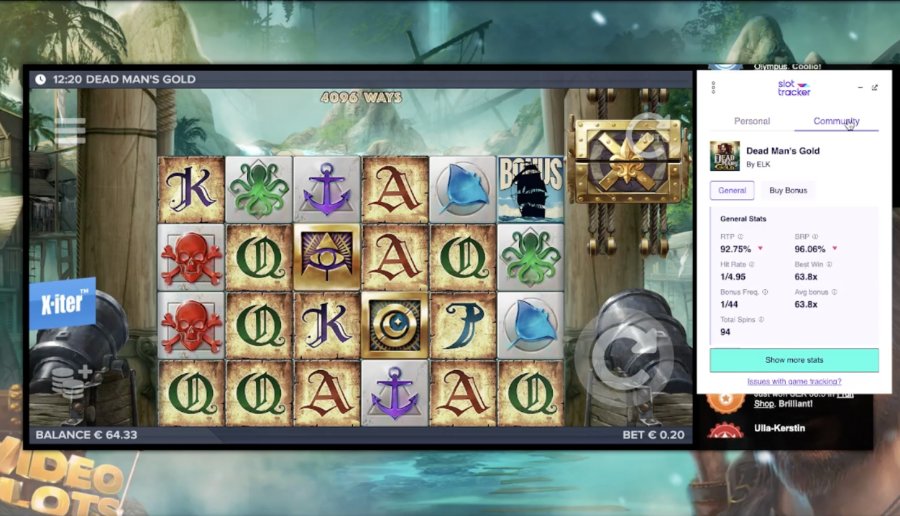 Did you know Slot Tracker tracks Dead Man's Gold Bonus Buy Stats?
Our tool tracks bonus stats separately from bonus buy stats. Bonus frequency relates to the frequency at which our players enter into free spins through regular gameplay. For bonus features that were purchased, we give our players the total number of times players activated buy bonus. You can get all the information you need on bonus and bonus buy stats from the app, console, or extension.
Track Dead Man's Gold on the community's top casinos
There are several casinos where you can track ELK Studios slots. Here are a few that we recommend:
Graphics & Sound
| | |
| --- | --- |
| Graphics | 2D |
| Optimised for Mobile | 👍 |
| Music | Dark, atmospheric, orchestral |
| Special features | Multipliers, Tumble Feature, Free Spins, Expanding Reels |
Solutions if you have some issues with a game
Game Freezes or Crashes: The slot game may freeze or crash during gameplay, causing frustration and disruption.
Refresh the game page or close and reopen the browser to reload the game. If the problem persists, clear cache and cookies or try a different browser. Ensure that your device meets the minimum system requirements for smooth gameplay.
Geographical Restrictions: Players from certain regions might face access restrictions to specific slot games due to licensing or regulatory reasons.
Verify the casino's terms and conditions to ensure that players from your location are allowed to access the game. If restricted, consider using a reputable VPN service (if allowed) or choose alternative games available in your region.
Slow Loading Times: The slot game may take a long time to load, leading to impatience and a poor user experience.
Check your internet connection speed and consider switching to a faster network if possible. Closing unnecessary browser tabs or applications can also improve loading times.
Nothing Dead About This Slot!
An incredibly well made slot with innovative features and entertaining gameplay. We had a profitable experience when playing the game and it's definitely a favourite with our team!
Other slots to track if you like Dead Man's Gold slot
We've chosen a couple of games with a historical theme and which are focussed on bonus buy features:
A slot game with a steampunk western theme. Features include Money Cart Bonus, Respin Bonus, and a Free Spins Bonus. The game offers players the chance to buy bonus features for 100x the bet for the chance to win 50,000x the stake.
If you like classic westerns, you'll love this slot. Bonus buy features allow you to purchase entry into the bonus rounds where they get to choose one of three free spins games: Train Heist, Old Saloon, and High Noon. High Noon offers the chance to win 100,000x the stake.
FAQs
How can I win on slot machines?
You simply need to spin and hopefully you will trigger a win. You can also opt for games that are equipped with bonus buy functionality. These games allow you to pay to access particular features in the game. 
Is there a way to trick a slot machine to win?
There is no way to trick a game to win, but some games may pay out more than others. Check our tool to discover games which may pay out better than others in order to find a game that's appropriate for you.
How do I play slot machines?
Slot machines may seem complicated to you because of the high amount of features and animations, but at their heart they are simple. Usually you need to match similar symbols to trigger a win. Each slot has a paytable that tells you how to win.
How do I win big on slots?
Slots are games of chance and there's no way to guarantee a big win. But you can check our console to find out which games have paid out large wins in the past. 
What is Slot Tracker?
Slot Tracker is a tool that tracks spins and provides players with statistics such as RTP, best win, bonus frequency, etc. This enables players to choose slots based on the experiences other players have had on games, as well as enabling them to keep tabs on their own experiences.