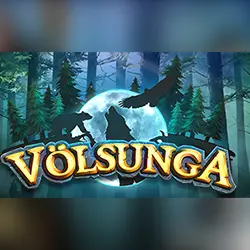 Stats Updated On : September 26, 2023
Volsunga
This Volsunga slot review will offer some player-generated stats from our spin-tracking tool. Read on to learn more about what our tool does.
Medium
Community Volatility
Join the Slot Tracker community to...
Track your slot data in real-time
Access slot insights from over 100 million spins
Compare your stats to our community's
Join 17310 total community members
using Slot Tracker
This data is your snapshot of how this slot is tracking for the community.
Volsunga Community Bonus Data
Volsunga Slot Review
Ever felt confused by the sheer number of online slots? With our tool, you'll know exactly how a slot has performed before you play it. We record each and every player's spins, pooling together data and feeding that back to our community in the form of statistics.
Why Our Slot Tracking Tool is Different
Slots manufacturers release statistics for each product they produce. They base their statistics on millions of simulated spins. Our stats are based on the actual spins of our community. Our tool represents the first time ever that players are able to pool together their resources to test the legitimacy of suppliers' claims.
Focus on Volsunga Slot Game
This Volsunga casino review will look at three of the most important statistics for understanding Volsunga slot: RTP, Hit Rate, and Top Win.
Volsunga RTP
Volsunga RTP currently stands at 82.41%. This statistic is based on 818. Our Volsunga RTP is different from the official RTP. What do you make of Volsunga RTP? Why not head over to the console and compare it to that of countless other high-performing slots?
Volsunga Slot Hit Rate
The next thing you'll want to know about Volsunga slot game is how often your spins will result in wins. Volsunga online slot currently has a hit rate of 1/3.6 (27.87%). What do you make of this? How does it compare to the advertised hit rate of the slot? Does it come close?
Volsunga Slot Top Win
The third bit of information that you'll want to know about Volsunga online slot is the top win. Casinos will often advertise a number as the highest possible win on a slot. It's usually an impressively high number. But is that number really reachable? Now, you can check whether anyone in our community has come close to winning that amount. Volsunga online slot has recorded a best win of €83.80 out of 818 total spins. Go ahead and head over to www.slottracker.com to download our tool and see which slots delivered the highest wins. There are plenty of other stats and measures that are important.
Volsunga Slot Game Volatility
In the world of slots, we often use the term volatility to describe a game's performance. RTP, Hit Rate, and Top Win are factored into this metric, which describes how often a slot pays out and how sizable those wins are.
Put simply, a slot that pays out often but only delivers small wins is considered to be a low volatility game. A slot that rarely pays out but has the capacity to deliver massive wins is considered to be a high volatility game. Suppliers affix volatility ratings to their products, but it's not always clear-cut. Our tool continuously monitors slots and gives each game on our tool a real time data volatility rating.
What is Volsunga online slot's volatility rating? Head over to our tool to find out.
Volsunga Ranges
Since our tool's statistics are based on real-time data, they are subject to change according to the number of spins that have been tracked. If a slot has had a very small number of spins tracked, the statistics might be unusual. If this happens, the statistic will be flagged. Any statistic that shows up outside our preset ranges is automatically flagged.
Sometimes, even after thousands of spins, a slot might go beyond our preset ranges. Nonetheless, these are accurate reflections of the spins that have been played on the slot.
Play Volsunga slot by visiting our casino page and find a casino that suits you!
Volsunga Free Play
One effective way to get a sense of how often a slot pays out is to play Volsunga slot for free! Volsunga free play should be available (depending on your jurisdiction). You will probably be able to play Volsunga online slot for free by visiting our list of casino. Volsunga free play is a great way to get a feel for slots before you play them. You'll be able to enjoy them without the need to spend money.
Want to learn more?
Find out more about our tool and download the extension. It's totally free and easy to set up. Once downloaded, you'll have full access to our console. You'll know what our community has discovered on the best slots around and immediately start tracking your spins!
FAQ
Is there anything I can do to increase Volsunga RTP?
Slots are based on random number generation and they are not skill-based games. There is nothing you can do to increase the likelihood of a spin resulting in a win. However, different slots have varying RTPs, hit rates, and maximum wins. Find a slot that suits your style of play – you can use our tool to help guide you. Always remember to gamble responsibly.
Is Volsunga online slot safe?
The leading providers of slots are operating in a highly regulated industry, and if their products are not compliant with regulations they could easily lose their licence. For this reason, slots are tested by authorised testing facilities which check every aspect of the slot's random number generation mechanics and maths models and ensure that they check out and perform as advertised. In this way, they are safe. Slots are hosted on the provider's servers and not the casino website. Always play slots that were manufactured by recognisable providers whom you trust. NetEnt, Yggdrasil, Pragmatic Play, and Play'n GO are amongst the top suppliers.
Why should I download the Slot Tracker extension?
If you are curious to know which slot game dropped this biggest win, which slot game has the highest hit rate, and which slot game has been the most generous – or, if you're just curious to know how other players are doing when they play slots – then you'll love our tool. It offers countless statistics on the best games around, and is the first time ever that players can pool together resources to check suppliers' claims. And best of all, it's free!
Stats Updated On : June 15, 2023
Volsunga
Right now, Volsunga online slot has 237 spins tracked on our tool. From these spins, Volsunga RTP currently sits at 47.31% with the game having a top win of €11.10.
Medium
Community Volatility
Join the Slot Tracker community to...
Track your slot data in real-time
Access slot insights from over 100 million spins
Compare your stats to our community's
Join 17310 total community members
using Slot Tracker
This data is your snapshot of how this slot is tracking for the community.
Volsunga Community Bonus Data
Volsunga Slot Review
This Volsunga slot review utilises our tool to assess key aspects of the game's performance. A lot more information will be available to you once you download the extension. This will give you access to the console and a whole range of data and metrics.
If you're already curious to learn more about Volsunga online slot, download our tool to start your data-driven journey! Or play Volsunga slot by accessing our list of casinos.
Volsunga RTP
First, what is RTP? RTP stands for Return to Player and represents the percentage of the total bet that a player can expect to win back over the long term. The key word there is long term. Suppliers establish RTP after millions of simulated spins. RTP is therefore definitely not an accurate prediction of what you are likely to win after a few spins.
Our RTP stat is different. It is established from the actual spins played by our community of players. Apart from being immensely interesting, it gives you a real sense of just what it is you're dealing with. Volsunga RTP currently sits at 47.31%. What do you make of Volsunga RTP? Why not compare it to some of the most popular slots on our tool:
Book of Dead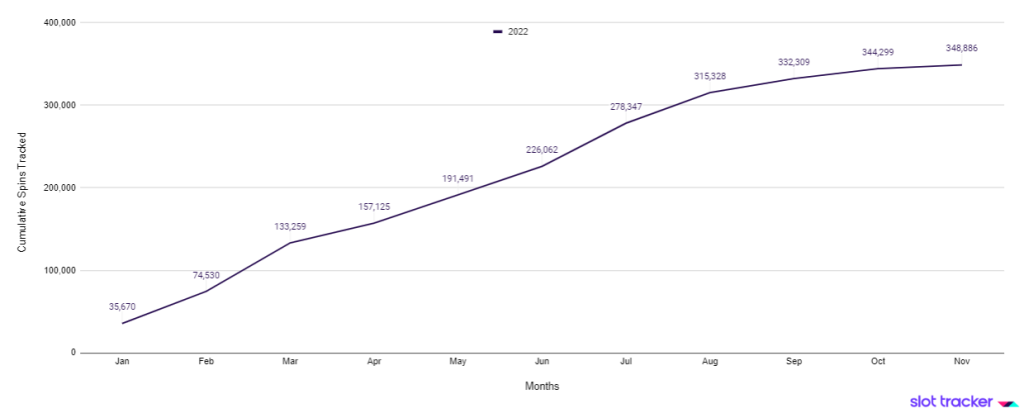 Book of Dead RTP at time of writing: 96.41%
This game is highly popular with our players. It's one of Play 'n GO's biggest hits and is known to be a high volatility game with a fabled max payout of 5,000 times your stake. Reveal the secrets of Book of Dead by searching through all the numbers we've got on Slot Tracker.
Legacy of Dead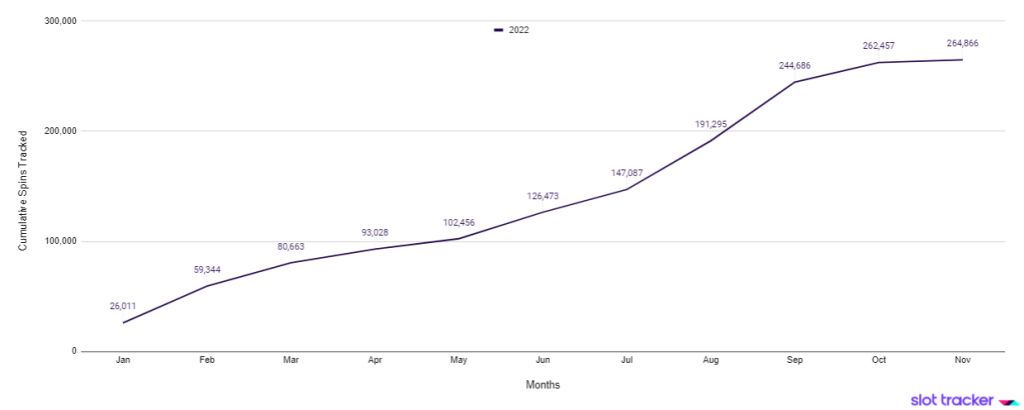 Legacy of Dead RTP at time of writing: 93.65%
Another Play 'n Go legend. Archaeology is all the rage with Play 'n Go, but we encourage you to do a bit of your own digging and join slottracker.com to get access to a wealth of stats.
Dead or Alive 2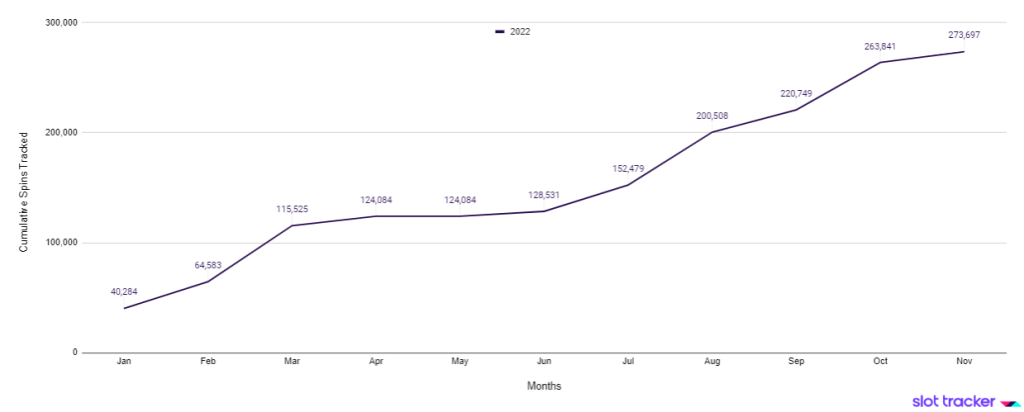 Dead or Alive 2 RTP at time of writing: 95.92%
At time of writing, this game has notched an impressive best win of €20,396 and it's theoretically possible to land a win of over 100,000x the bet. Is this still the game's top win? Download our tool to check it out.
Volsunga Slot Game SRP
This dataset is unique to our tool. It stands for Statistical Return Percentage and estimates the percentage of bet you can win on a per spin basis. It does this by taking the total RTP of a slot and dividing it by the total number of spins. Volsunga online slot SRP is 51.18%. Keep in mind that while we do our best to arm you with all the information possible, slots are inherently unpredictable. It's important to keep that in mind and – as always – only use these casino products for entertainment.
Volsunga Wins Frequency and Volatility
Volatility is one of the most important factors when it comes to assessing slots. Low volatility slots deliver regular payouts that are generally low in value; high volatility slots pay out rarely but can occasionally drop big wins. Volsunga slot game has a wins frequency of 1/3.6 (27.85%). Find out where the game stands on our volatility index by downloading our tool.
Volsunga Frequency of Bonus Rounds
The one thing that we all can agree on is that we all love bonuses. There are two types of bonuses: bonus spins that are built into slots (often called free spins) and promotional bonuses that are offered by casinos.
When it comes to in-game bonus, Volsunga slot has a bonus hit rate of N/A with an average bonus RTP of -0.01x.
Where can I play Volsunga slot?
Volsunga slot game is available at most well-known online casinos. Volsunga free play should also be available (depending on the region you're in). By using Volsunga free play, you can really get a sense of exactly what playing the slot with actual money would be like. The free version of a slot game is identical to the play-for-money version. Go ahead and play Volsunga slot by heading over to our list of casinos to learn more about some of the most popular casinos with our community.
About Slot Tracker
Our tool tracks your spins, recording key data and storing it for you. You'll be able to use the info to assess the performance of casino products and slots. Metrics available to you include the following:
Total Spins
Cash In
Cash Out
RTP
SRP
Profits and Losses
Hit Rate
Best Win
Volatility
We hope you enjoyed this Slot Tracker-enabled Volsunga slot review of Volsunga slot game. Our tool is ready for you to enjoy; it's absolutely free. Head over to slottracker.com to download.
FAQ
Is Volsunga safe to play?
Games from leading suppliers are tested and certified by independent, accredited test facilities. These organisations – known as ATFs – verify that casino products meet all the regulations (including player protection, fairness, and security) for the regulated markets in which they operate.
Is Slot Tracker free?
We are proud of the fact that our tool is 100% free to use. By using Slot Tracker, you form part of a community of players. The efficiency of the tool is very much strengthened by having a wide and diverse community of users. So we encourage people to use and enjoy our tool for free.
Is my data safe?
We place a lot of importance on the data security of our community. ONLY data related to spins is tracked. Your personal details are encrypted and your gaming data is held in a secure database. We use the latest secure technology to protect your data, protecting it with the highest level SSL certificates. Furthermore, our platform is cryptographically signed, which guarantees that the files you download came directly from us and have not been corrupted or tampered with.