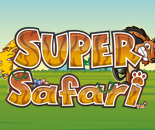 Stats Updated On : December 11, 2023
Super Safari
We offer you statistics on Super Safari slot that are unique in the industry – based on actual spins tracked by our community of players. Read on to learn more.
Medium
Community Volatility
Join the Slot Tracker community to...
Track your slot data in real-time
Access slot insights from over 100 million spins
Compare your stats to our community's
Join 18130 total community members
using Slot Tracker
Super Safari Community Data
This data is your snapshot of how this slot is tracking for the community.
€511.00
Best Monetary Win
204.4x
Best Multiplier Win
Super Safari slot review
From a total of 1,203 total spins, Super Safari has reached an RTP of 122.53%, a wins frequency of 1/2.5 (39.48%), and an overall highest win of €511.00. What do you make of this?
Now we will take a look at some of the stats we've got on Super Safari slot.
Super Safari RTP
As mentioned before, the RTP of Super Safari slot is 122.53%.
RTP stands for Return to Player. It refers to the percentage of the total bet played on a slot game that the player wins back. So by this definition: the higher the Super Safari RTP, the better. This stat is not to be understood as a prediction of how much you will win after one, two, or even a whole bunch of spins. The percentage is determined by the supplier after millions of artificial spins are simulated.
Our stat is different. It is calculated based on the actual spins played by our community of players.
Super Safari slot game: other stats
We offer plenty of other stats on casino products. We can tell you the number of times our players entered into bonus rounds. In the case of Super Safari online slot, the total number of bonus rounds is N/A, the average bonus win is N/A, and the bonus frequency rate is N/A.
Other stats we offer are unique to our tool. SRP gives you an estimate on how much you are predicted to win on a per-spin basis. It does this by taking the Total RTP over the Total Spins. The SRP of Super Safari is 125.38%.
The tool also gives you the Hit Rate of slots. In the case of Super Safari slot, the hit rate is 1/2.5 (39.48%).
Personal Stats vs Community Stats
Personal Stats give you an account of all your playing activity. It is incredibly useful in keeping a record of the amount of cash you've spent (and hopefully won), allowing you to be more responsible.
Community Stats is where we pool together all our players' data to establish our own, unique sets of data on casino products. You can view this info on our console, along with guides and explanations of what the different stats refer to.
Other stats on the console include:
Total Spins
Best Win
Total Wins
Amount In
Amount Out
Profits and Losses
Flagged Stats
Sometimes, the stats displayed on the console will seem unusual. In these instances, the info will be flagged. This usually occurs due to a lack of spins on the particular slot being played. Any info that falls outside the below ranges will be flagged:
| Stats | Range |
| --- | --- |
| Spins | Less than 20,000 |
| RTP | 85%-110% |
| Hit Rate | 1/2 – 1/8 |
| Bonus Frequency | 1/50 – 1/300 |
If Super Safari slot is not for you, here are some of our most popular slots on Slot Tracker:
Book of Dead
This game is a legendary slot by Play 'n Go. Three or more scatter wild symbols triggers the game's free spins round. There, you'll find a special expanding symbol that can deliver wins of up to 5000x. The supplier has labelled this game to be high volatility. Does our tracking tool back that up?
Dead or Alive 2
In NetEnt's Dead or Alive 2, you must land 3 or more scatter symbols to trigger the free spins bonus rounds. There are three different games to choose from in the bonus rounds. High Noon is the most volatile of these three games, with 100,000x advertised as the top win. At time of writing, Dead or Alive 2 boasts the highest win of all the slots we've been tracking, with a best win of 40,559x.
Legacy of Dead
In Legacy of Dead, you must land 3 or more scatters to trigger 10 free spins where you stand to win big. This game is another Play 'n Go masterpiece that is part of the developer's hugely successful archaeological range of slots.
Free play is available on Super Safari online slot (depending on where you are currently based). Why not try Super Safari slot for free? Head over to a casino of your choice and give it a spin.
Responsible Gambling
It is important to understand that nothing can ultimately predict the outcome of a genuine slot game. This is due to the fact that they are designed to be random. While our tool can give honest and accurate data about slots' different RTPs, volatilities, hit rates, etc., using these products should always ultimately be for entertainment purposes only.
Start Tracking Your Spins Today!
Ready to start tracking your spins? Head over to www.slottracker.com and follow the instructions to download.
FAQs
Is Super Safari slot safe?
The casino products we track have been tested and certified by independent accredited test facilities (ATF). They are tested to ensure they meet regulations, including player protection, fairness, and security, for a number of different regulated markets.
Is Slot Tracker free to use?
Absolutely. Once you download the tool, you will be able to start using it in its entirety. Nothing is behind a paywall or locked. The tool and all its great features are available for you to use and enjoy for free.
Are you affiliated with any supplier or casino?
We operate independently of other entities and the data we provide to players is totally objective.
What data will the tool be tracking other than spins?
No other data other than your spins will be tracked. We understand people's valid concerns about data. We assure you that our platform is cryptographically signed which guarantees that the files you download came directly from us and have not been corrupted or tampered with. All of your spin data is transmitted using the latest secure technology and is protected with the highest level SSL certificates. Your personal details are encrypted and your gaming data is held in a secure database.