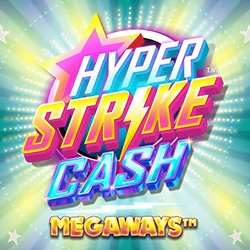 Stats Updated On : September 21, 2023
Hyper Strike Cash Megaways
Pop the hood and take a look inside Hyper Strike Cash Megaways by Microgaming. We've tracked 3,444 total spins by our community members. Read on to find out more.
Medium
Community Volatility
Join the Slot Tracker community to...
Track your slot data in real-time
Access slot insights from over 100 million spins
Compare your stats to our community's
Join 17212 total community members
using Slot Tracker
Hyper Strike Cash Megaways Community Data
This data is your snapshot of how this slot is tracking for the community.
€1,409.11
Best Monetary Win
Hyper Strike Cash Megaways High RTP Casinos
Here are the top high RTP casinos for this slot.
A Data-driven Hyper Strike Cash Megaways Slot Review
Games are not created equal, and that's backed up by our data. There's a zillion games out there on the web. How can you tell the difference between the heroes and zeroes? That's where we come in.
Tracking spins is what we do. Translating data into easy to understand figures and charts is our passion. Our work gives players insight into which titles are hot and which are not. There are a number of metrics we use to rank games – RTP, volatility, hit rate, total spins, and many more. Sure, manufacturers give out official numbers. These stats are generated by computer algorithms which simulate millions of rounds to test the game's RNG engine. While supplier stats are totally legit, our info is different. The data you'll get in this Hyper Strike Cash Megaways slot review, for instance, is based on data from actual flesh-and-blood humans who spent their cash on these games. You get the benefit of knowing the outcome of the game rounds of all the players who played the game before you. Forewarned is forearmed.
Want to jump right in? Check out our list of casinos and play Hyper Strike Cash Megaways slot at any of our best performing casinos.
In this Hyper Strike Cash Megaways slot review, we crunched the numbers, matched the dots, and made the fancy colour-coded spreadsheet. Put your thinking hat on and take notes. We're going to give you the lowdown on Hyper Strike Cash Megaways slot. In the end, you'll have to judge for yourself. All we do is give you the data. So let's dive in!
Hyper Strike Cash Megaways RTP and SRP
RTP stands for Return to Player. Hyper Strike Cash Megaways RTP is 81.73%. RTP is almost always presented as a percentage, and is calculated as the amount returned to players as a percentage of the total amount gambled by players. Easy enough. But RTP can be somewhat misleading. Some games have a hefty RTP in the bonus rounds, but not in the main game. Others are highly volatile, with the majority of spins being relatively uneventful but having the capacity to deliver the occasional massive win. Likewise, RTP can be affected by bet sizes. You wouldn't be able to gauge this info on the RTP stat alone.
Our tracker offers a statistic that complements RTP and that players might find useful. SRP stands for statistical return percentage. It tracks the money in and out of a game on a per spin basis. By taking total RTP over the total spins, it creates an average RTP that's not affected by total bet sizes. Essentially, this statistic gives you the average return per spin.
How does Hyper Strike Cash Megaways RTP compare to other titles?
Hyper Strike Cash Megaways RTP currently sits at 81.73% while its SRP is 87.49%. You can compare this to a couple of our community's favourite games.
The Book of Dead RTP hovers around the 96.75% mark. Its SRP when I wrote this was 93.28%.
Dead or Alive 2 RTP was 96.03% at time of writing. SRP is a sweet 97.77% (again at time of writing!).
We can see that while both give you similar bang for your buck, the SRP suggests you'll get more out of Dead or Alive 2 on a per spin basis. Have a look at the console to see whether these stats have changed since this review was written!
It's important to note that when it comes to official data, games tend to have an RTP of between 92% – 98%, but as mentioned previously, we work within a range of 85% – 110% (provided that the number of spins tracked is above 20,000).
Play Hyper Strike Cash Megaways slot and start tracking your highs and your lows!
Hyper Strike Cash Megaways Bonus Tracking
These days, games are jam-packed with exciting features that deliver free spins, multipliers, bonus games – you name it. From the free spins of Sweet Bonanza to the Special Wilds of Tome of Madness, there's heaps of entertainment and significant rewards associated with triggering Bonus. When it comes to Hyper Strike Cash Megaways online slot, our tool can give insight on total bonuses, bonus frequency, and average bonus win.
Total bonuses:

N/A

Bonus frequency:

N/A

Average bonus win:

-0.01x
Let's compare that to some of other games stats (quoted at time of writing):
Legacy of Dead
Total bonuses: 3,396
Bonus frequency: 1/180.44
Average bonus win: 91.29x
Gates of Olympus
Total bonuses: 2,558
Bonus frequency: 14.54x
Average bonus win: 1/170.97
Hyper Strike Cash Megaways Slot Game Win Data and Other Stats
Whether using the desktop console or the mobile app, there are a number of stats at your disposal that you can use according to your playing style.
Volatility Index
Major suppliers create products for different types of players. Some games are focused on entertainment, aimed at casual gamers who favour titles that deliver frequent wins – even if the wins don't consist of large amounts. Other games have the capacity to deliver massive payouts – but not very often! The Volatility Index gives you a good indication of the type of game you're dealing with.
Join the Slot Tracker community to discover the volatility of Hyper Strike Cash Megaways.
Win Ratio Chart
A truly unique data set which breaks down the distribution of RTP in base game wins and bonus wins.
Diagnostics Information
With Diagnostics Information, you can see a month-by-month breakdown of RTP and spins, allowing you to spot a spike in RTP – likely when someone landed a big win – or a rush when the game soared in popularity.
Guide to Slot Tracker
The data on the console is as authentic, real, and raw as it comes. This is why it can be so revealing but also why you should be judicious in how you use it. Sometimes, the data that shows up on your console can be unrealistic. But don't sweat, we've set up a flagging system to alert you if the data looks iffy. Any data that is outside a predetermined range will trigger an automated warning.
Warnings will be triggered if the following information is displayed:
Less than 20,000 spins tracked.
An RTP outside of the 85% – 110% range.
A Hit Rate outside of the 1/2 – 1/300 range.
A Bonus Frequency outside of the 1/50 – 1/300 range.
Where to play Hyper Strike Cash Megaways online slot
There's a number of great places where you can play Hyper Strike Cash Megaways slot. If you liked our Hyper Strike Cash Megaways slot review, check out our reviews of best performing casinos. We're sure you'll find a casino that's just right for you.
Enjoyed our Hyper Strike Cash Megaways slot review?
Head over to slottracker.com and download the extension to become a part of our data-driven community!
FAQ
Can I play Hyper Strike Cash Megaways slot for free on the app?
The extension and app are free to download and use, but if you want to track your spins, you'll need to play Hyper Strike Cash Megaways online slot for real money.
Does your product help me to win big on Hyper Strike Cash Megaways?
The extension and app give you tremendous insight into casino products, including Hyper Strike Cash Megaways slot. There is, however, no guarantee that you will win as these games are based on Random Number Generator-mechanics.
Is Hyper Strike Cash Megaways slot game safe to play?
All the products our site links to have been vetted, tested, and certified by independent accredited test facilities. These entities verify that they meet all the regulations, including player protection, fairness, and security, for various regulated markets in which the products operate. They are guaranteed to perform according to the supplier's game information.