Slot Tracker is one of the most exciting developments in the world of online gaming.
In an industry where big casinos and games manufacturers sit on mountains of data like dragons guarding piles of gold, we bring a wealth of data and stats directly to you – our community of players.
Our spin-tracking tool is 100% free to download and use – and we're not talking about trial versions or basic packages. You get the entire functionality and full access from minute 1 for free.
The reasons for this – and how it's achieved – are explained below.
---
1. Data
Slot Tracker's strength lies in its data.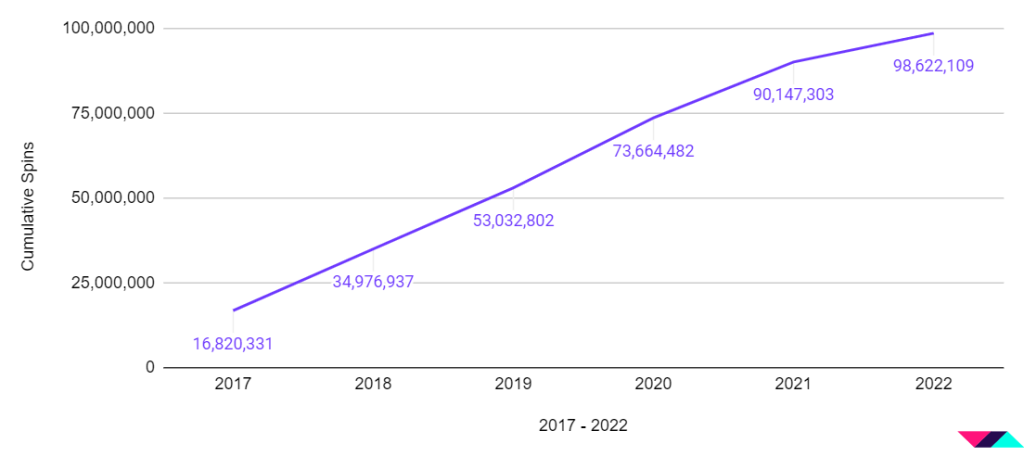 We talk of having a 'community' of players because players are the lifeblood of our tool; we rely on the homegrown data generated by our player community.
When a slot that's registered on our tool has only had a small number of spins tracked, the statistics it shows might not be as meaningful as they would be if a large quantity of spins had been tracked. Simply put: the more people use our tool, the more data it aggregates and the better it can serve our community. By making the tool free to use, we are encouraging more people to use it, effectively making it better.
This is different to the approach of games manufacturers who create stats using thousands upon thousands of artificial spins. The statistics provided by suppliers are not up for discussion – it's take it or leave it. Our approach is different. Our statistics are updated and built upon daily. In this way, our tool is constantly putting suppliers' claims to the test. Making the tool free is integral to creating this constant inflow of data and the dynamic experience that players have when using our tool.
2. Accessibility
We see Slot Tracker as the go-to tool that every single slots player should have in their toolkit – from the high rollers to the couple-of-spins-a-week players.
Our tool was never intended to be used only by an exclusive group of players. On the contrary – we want everyone to be using it. This is why the tool is designed to be simple and easy – and, of course, free! It's designed to be accessible to everyone:
Accessible to Windfall Hunters
If your objective is to land an extraordinarily high payout on a slot, you'll be able to use our tool to identify a game that has paid out well in the past. Once you begin your hunt, you'll be able to track your spins and keep tabs on how much you have spent. This will enable you to understand the profits/losses you have made in pursuit of your goal. You will be in a better position to decide whether to stick to the game you're using or switch to a different game. Or you might decide to take a break. Whatever your decision, our spin-tracking tool gives you more control over your gaming activities.
Accessible to Casual Players
If your objective is purely entertainment, you'll be able to find a game that has a high hit rate. Rather than waste time, energy, and money chasing elusive pay-outs on high volatility games, find an entertaining game that will pay out regularly. Other than hit rate, the tool can give you other statistics that are must-haves for an entertaining slot:
Total Bonuses
Best Win
Bonus Freq.
Avg Bonus Win
Bonus refers to games-within-games that are highly entertaining and sought after by casual gamers.
Accessible to The Responsible Types
The importance of responsible gambling is not spoken about enough. We give it utmost importance, and we are proud that our tool enables players to keep a record of their gaming activity. By doing so, players are in control of their own finances and know exactly how much they're spending.
Available whatever the device you're using
Our spin-tracking tool comes in three main iterations: the extension, the app (available on Google Play and the Chrome Web Store), and the console. The version you choose to use comes down to personal preference. Whether you're playing slots on desktop or mobile, you'll have access to all the functionality. 
3. Transparency
We aim to be transparent. Our data is accessible to anyone, and it shouldn't be hidden behind a paywall because we have nothing to hide.
It might surprise you to know that we are not the only gaming company that has data on the outcome of players' spins. Casinos and suppliers know exactly how their products are performing, and have extensive data on each and every spin made on their products. But the data is a closely guarded secret. Not so with us. We bring all that information to you – the player – empowering you to make better decisions.
In order for this level of transparency to be achieved, we can't have anything stopping players from accessing our tool. No lengthy sign up process, no consent forms – and, most importantly – no fee.
4. On Your Team
We Are on the Player's Side. We Turn The Tables on Suppliers and Casinos
OK, that might be a bit unfair. The truth is, licensed and audited casinos and suppliers are not necessarily bad actors, and we are in full support of regulation that ensures that players are never exploited or duped. That being said, the industry is awash with big claims that are not always substantiated. Players now have the means to scrutinize these claims and put them to the test. The way we do this is by having players from all over the world using our tool. A free, effective, accessible tool.
You don't even need to play slots. In fact, we encourage you to compare supplier statistics on maximum win, RTP, and hit rate to our own statistics. As mentioned previously, our statistics are based on actual player experiences. This means that while the sample size (in some cases) might not be particularly large, stats are always based on actual people's experiences and not artificial spins. In this sense, our stats are an accurate reflection of casino products' performance.
For instance, NetEnt, the makers of Dead or Alive 2, claim that the max win of the game is 111,111x. This may well be the case, but from 3,426,877 tracked spins (at time of writing), the highest win recorded thus far was 40,559x. A substantial win – no doubt – but quite a way off 111,111x. Because of this, we have to conclude that the stated max win of Dead or Alive 2 is somewhat misleading. That being said, we do hope that someone will come close to the supplier's stated max win, and that's why we want more and more players tracking spins regularly on our tool.
5. We don't need to charge for access.
Our revenue model does not require a paywall. Slot Tracker is a business, but it is not based on a subscription model.
These days, it often feels like you have to pay a subscription for everything. Want to watch your favorite Bond movie? Pay a subscription to a streaming service. Need to work on your CV to apply for a job? Pay a subscription to use whatever programme allows you to do that. We even heard that some car companies require a monthly subscription to get heated seats! It's too much. Even in the online casino world, many casinos would require you to deposit money before you can access their portfolio of games.
Early versions of Slot Tracker followed a similar model to that employed by other companies in the industry and payment was required to access the tool. The team has now decided to change tack. From now on, no payment will ever be required.
This is not to say that we are a kind of not-for-profit organisation! We have a revenue model that's based on referrals. Whenever you use our tool to play games at casinos and slots, we take a cut. This means it is in our interest for players to have positive experiences using our online casino products, and for them to trust that we are tracking their activity accurately and correctly – this is what players want from us.
6. Entertainment
We put entertainment first and foremost. Long sign up processes are quite simply a drag – in every sense.
With all this talk of data and revenue models, we must not lose sight of the most important thing: entertainment! Online gaming should be fun – if it's not, then you're not doing it right. By keeping our tool free, we are freeing you up to use your money to make bets and enjoy yourself, which is what you ultimately want to do.
But entertainment is not just a matter of betting. Our tool gives gaming a whole new dimension. Which slot has the highest payout recorded on the tool? Which is the most popular slot? Which games manufacturer registers the highest RTP? You can now find answers to these questions. It's all in the data.
So, to sum it all up: the more data we gather, the better. A free-to-use model enables our community to grow – which in turn adds to our pool of data – making the tool better and stronger.

It's a Free World
Actually, it's not. But our tool is. We've built a tool that's free of subscription fees, in-app purchases, freemium, pay-per-download, advertising – you name it. It's a clear cut – single download experience. Why not try it out?
Track Slots for Free