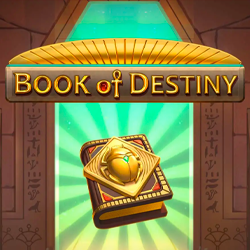 Stats Updated On : December 11, 2023
Book Of Destiny
Book Of Destiny slot by Relax has 10,775 total spins tracked by Slot Tracker community members. Have you tracked this slot yet?
Medium
Community Volatility
Join the Slot Tracker community to...
Track your slot data in real-time
Access slot insights from over 100 million spins
Compare your stats to our community's
Join 46 community members
tracking this slot
Book Of Destiny Community Data
This data is your snapshot of how this slot is tracking for the community.
€1,560.00
Best Monetary Win
389.5x
Best Multiplier Win
Book Of Destiny Community Bonus Data
Book Of Destiny High RTP Casinos
Here are the top high RTP casinos for this slot.
Book Of Destiny slot review
This isn't your standard Relax Book Of Destiny slot review. We're basing what we've got to say about this slot on 10,775 total spins tracked by the community on our Slot Tracker extension.
These spins are the foundation of all the other data points – RTP, hit rate, bonus frequency, etc. – that we track. Keep in mind that if a slot has less than 20,000 spins tracked or was added to our slot tracking tool less than two weeks ago, we can consider the rest of its tracked stats to be less reliable or accurate. If the slot has over 20,000 spins tracked, then you can rely on this data better.
Book Of Destiny RTP & SRP
Book Of Destiny RTP is 84.77% while its SRP is 94.96% right now.
It's not uncommon for a slot's RTP and SRP to differ from what's quoted by Relax. Remember, that an RTP percentage of slots indicates how much you can expect to win over the long run. In fact, game providers calculate this RTP value over thousands upon thousands of theoretical spins. This is where the difference (if any) between the RTP you'll see on a slot's info tab vs. what the community has tracked comes from.
In general, the more spins tracked on a given slot, the more likely it is for the community RTP to reflect what the game provider quotes. Just take Play'n GO's Book of Dead or Relax Gaming's Marching Legions. Their high number of tracked spins means that their community RTP is usually close to the provider's.
FYI, most of the slots released nowadays have an RTP between 92% – 98% but we consider an RTP between 85% – 110% to be within reasonable limits – as long as the number of spin tracked is above 20,000.
SRP is essentially RTP stripped down to a spin-by-spin basis. By taking the Total RTP over the Total Spins, it creates an average RTP that's not affected by different bet sizes.
Book Of Destiny Win Data
One of the main benefits of tracking slots online is to know exactly when and what you're winning. We track two win data points: the slot's hit rate and its best win.
A typical hit rate will range between 1/2 – 1/8 which means that you can expect to land a win in every 2 to 8 spins. At a community level, Book Of Destiny's hit rate is %%Hit Rate (Fraction)%% or %%Hit Rate (%)%% at the moment.
On the other hand, the best win caps at the highest win possible in this game as set by the game provider. To date, the best win tracked by a community member is %%Best Win (multiplier)%%.
Book Of Destiny Bonus Details
Today, most casino games feature evermore engaging bonus rounds and mechanics. Think the new Hold and Win Respins features on Quickspin's Apollo Pays or NetEnt's feature-filled Dead or Alive 2. It's for this reason that we give due emphasis on what you can track during a bonus round.
We track three main Book Of Destiny bonus details: its total bonuses, bonus frequency, and average bonus. Total bonuses is pretty much self-explanatory, and Book Of Destiny has currently given out 83 total bonuses to the community.
As for bonus frequency, this is the number of times you can expect to land a bonus in every X number of spins. We consider a normal bonus frequency to range anywhere between 1/50 to 1/300. Right now, this slot has a bonus frequency of 1/128.3 (0.78%).
Book Of Destiny Volatility
Slot volatility is one of those must-know statistics. It tells you how often a slot typically pays out, and is typically one of the major deciding factors on which slot to play next.
At the moment, we can't make Book Of Destiny volatility public – you'll have to join the Slot Tracker community for that. What we can tell you, is a little more about how we categorise a slot's volatility.
Our categories are:
Very low
Low
Medium
Medium/high
High
Very high
Extreme
Each slot's volatility is shown on a dial on the console.
Book Of Destiny casinos to track this slot
You can play Book Of Destiny at many different casinos but there are a few recommended Book Of Destiny slot sites by the community. They are Video Slots, and Stake Casino.
FAQ
I've played Book Of Destiny slot plenty of times. Your statistics are incorrect. Why is that?
Book Of Destiny's statistics are based on 10,775 total spins tracked by the community. These stats change as new spins are tracked everyday. Get started with Slot Tracker today to track Book Of Destiny and contribute to its community data.
Can I track Book Of Destiny for free on Slot Tracker?
Slot Tracker is free to use but you'll need to place real money bets to track Book Of Destiny free play on our extension.
Can I track Book Of Destiny with a casino bonus?
It depends. If this slot is fairly popular and was released by a big-name game provider, it's likely that you'll find welcome bonuses or current promotions that offer free spins or a deposit bonus to benefit from. Check out our top casino bonuses here.
What should I do if I get an error while tracking Book Of Destiny?
If you notice something isn't right while you're tracking, you use the in-extension Report an issue function or contact us.